I am delighted to announce that Professor Dan Mindiola based at Indiana University at Bloomington in the USA has recently joined the Dalton Transactions team as Associate Editor.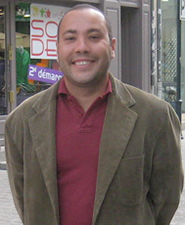 Dan will join the journal's three existing Associate Editors, Professor John Arnold based at University of California, Berkeley, USA, Professor Guo-Xin Jin at Fudan University, China and Professor Russell Morris from St. Andrew's University in the UK.
From June 2011 you will be able to submit your manuscripts to Dan for consideration in the journal using our online submission system.
Dan's research work entails the design and assembly of reactive metal complexes of early metals and their role in unusual transformations such as C-H activation and C-N bond cleavage reactions. He is also interested in novel catalytic processes mediated by reactive complexes containing metal-ligand multiple bonds.
.
.
 Find out more about Dan's work  research at his website and check out some of his recent papers below:
Ba L. Tran, Debashis Adhikari, Hongjun Fan, Maren Pink and Daniel J. Mindiola
Dalton Trans., 2010, 39, 358-360
DOI: 10.1039/B912040H, Communication
Jennifer Scott and Daniel J. Mindiola
Dalton Trans., 2009, 8463-8472
DOI: 10.1039/B908684F, Perspective