Carbon nanostructures have rapidly become subjects of increasing interest for use in biomedical applications ranging from drug delivery to bioimaging.  This is primarily due to their exceptionally high surface areas as well as their unique optical and electronic properties.  In this study, researchers from the Piramal Group in collaboration with the University of Florida investigated how the surface composition and structure of these materials affects their biological impact.
Specifically, the group investigated the protein binding capabilities, degree of cellular internalization, and cytotoxicity of carbon nanotubes (CNT) and graphene (G) sheets as well as CNT and G structures which had been conjugated with PAMAM dendrimers (G4) and polyethylene glycol (PEG).  These two polymers were chosen as conjugates as they are both known to improve the dispersibility and stability of various materials in solution.
Initial protein binding studies showed that the CNT and G conjugates exhibited weaker interactions with a model protein, bovine serum albumin (BSA), when compared to their non-conjugated counterparts.  These weaker interactions, which were thought to be primarily electrostatic in nature, could be extremely beneficial in limiting any possible functional interference which could arise from protein agglomeration on the nanostructure's surface.  The group also studied the degree to which the different nanostructures were internalized within cells.  CNT conjugates were consistently found to be internalized in higher quantities than the G conjugates, presumably because their tubular shape promoted increased cell membrane penetration.  Finally, cytotoxicity studies illustrated that the conjugated nanostructures typically exhibited reduced toxicity levels compared to unmodified CNT or G, particularly at higher concentrations of the nanomaterial.
Overall, the study demonstrated that carbon nanostructures can have different biological activities depending on their shape and surface composition.  It also suggests that conjugation of carbon materials with polymers such as PEG and G4 might be an effective method for limiting protein binding and reducing cytotoxicity.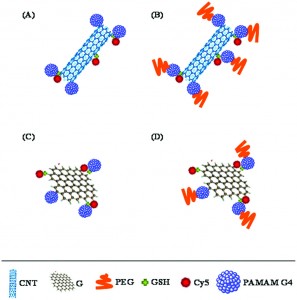 Structure effect of carbon nanovectors in regulation of cellular responses
Shashwat S. Banerjee, Archana Jalota-Badhwar, Prateek Wate, Sneha Asai, Khushbu R. Zope, Russel Mascarenhas, Dimple Bhatia and Jayant Khandare 
Biomater. Sci., 2013, Advance Article DOI: 10.1039/C3BM60082C
Ellen Tworkoski is a guest web-writer for Biomaterials Science.  She is currently a second year Ph.D. student in the biomedical engineering department at Northwestern University (Evanston, IL, USA).
Follow the latest journal news on Twitter @BioMaterSci or go to our Facebook page.
To keep up-to-date with all the latest research, sign-up to our RSS feed or Table of contents alert.