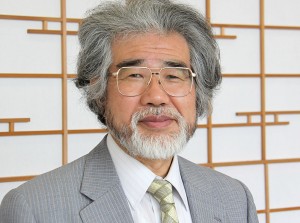 Norio Nakatsuji received his Doctor of Science in developmental biology from the Graduate School of Science of Kyoto University in 1977. He then spent several years in postdoctoral training at Umea University in Sweden, the Massachusetts Institute of Technology and George Washington University in the United States, and MRC Mammalian Development Unit in the United Kingdom. He returned to Japan to join the Meiji Institute of Health Science in 1984, and became a professor at the National Institute of Genetics in 1991. In 1999, Prof Nakatsuji joined the Institute for Frontier Medical Sciences at Kyoto University, where his laboratory established monkey embryonic stem cell lines in 2000. In 2003, his group succeeded in establishing human embryonic stem cell (hESC) lines, five of which (KhES1–5) are presently in distribution to other researchers throughout Japan. In 2007 he became the founding director of Kyoto University's Institute for Integrated Cell-Material Sciences (iCeMS), which aims to advance cross-disciplinary research and technological innovation based on cell biology, chemistry, and physics. His laboratory is presently focussed on multidisciplinary research including screening of chemical compounds for control of stem cells, utilisation of biomaterials for stem cell research and application, and creation of neurodegenerative disease model cells using genetically modified human ES/iPS cells.
1. What led you to specialise in your current areas of research, including biomaterials?
I started my scientific career as a developmental biologist. My interests in mammalian development lead me to mouse embryonic stem (ES) cells in 1984 during my stay in London. After returning to Japan and establishing my own laboratory, our ES cell-related research extended to monkey and human ES cells, which further expanded my interests to include biomedical applications of such wonderful cell lines and synergic combinations with functional smart materials.