Preventing or minimizing the adverse effects of anti-cancer chemotherapy has been a great challenge, due to the non-specific distribution of chemodrugs in healthy organs. Many previous works have attempted to address this issue by improving the accumulation of cytotoxic drugs in the tumor, with various targeting strategies. All the drug targeting methods enhance efficacy and reduce side-effects to a certain extent, but they cannot completely avoid the unfavourable adverse effects. Site-specific activation of chemotherapeutic drugs via a photo trigger has been a promising means of reducing side-effects.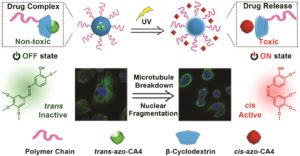 The Zhao group at Tianjin University report the use of cyclodextrin-bearing polymer micelles for the on-demand delivery of a photoswitchable microtubule inhibitor, to achieve precision chemotherapy. The tailored inhibitor displays conformation-dependent cytotoxicity with a low potency; the "trans" isomer is thermodynamically stable and inactive, whereas the "cis" isomer is active, but thermodynamically unstable. Light irradiation activates the drug from the "trans" to "cis" form, which then instantly induces rapid drug release. Such simultaneous drug activation and release could compromise the low drug potency to a certain extent, showing improved anti-cancer efficacy in vitro and in vivo. Therefore, photo-triggered nanosystems could open new avenues of on-demand precision chemotherapy, without the risk of adverse effects on healthy organs and tissues.
This article is free to read until 30 April 18
Photo-triggered micelles: simultaneous activation and release of microtubule inhibitors for on-demand chemotherapy Biomater. Sci., 2018, 6, 511-518
About the Web/Blog writer: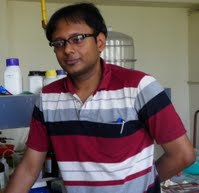 Dr. Sudip Mukherjee is a Web Writer for Biomaterials Science. He is currently a Postdoctoral Research Associate at the Rice University. His research is involved in the development of advanced nanomaterials for drug/gene delivery in cancer theranostics, immunomodulatory applications & angiogenesis. He published a total of ~30 research articles/patents. He serves as International Advisory Board Member for 'Materials Research Express', IOP Sciences. He is an associate member (AMRSC) of RSC, UK. He serves as reviewer for several international journals like ChemComm, J Mater Chem A, J Mater Chem B, Journal of Biomedical Nanotechnology, RSC Advances, IOP Nanotechnology etc.
Contact Email: sudip.mukherjee@rice.edu
Twitter: https://twitter.com/sudip_88