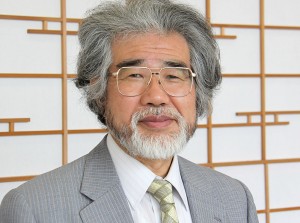 Norio Nakatsuji received his Doctor of Science in developmental biology from the Graduate School of Science of Kyoto University in 1977. He then spent several years in postdoctoral training at Umea University in Sweden, the Massachusetts Institute of Technology and George Washington University in the United States, and MRC Mammalian Development Unit in the United Kingdom. He returned to Japan to join the Meiji Institute of Health Science in 1984, and became a professor at the National Institute of Genetics in 1991. In 1999, Prof Nakatsuji joined the Institute for Frontier Medical Sciences at Kyoto University, where his laboratory established monkey embryonic stem cell lines in 2000. In 2003, his group succeeded in establishing human embryonic stem cell (hESC) lines, five of which (KhES1–5) are presently in distribution to other researchers throughout Japan. In 2007 he became the founding director of Kyoto University's Institute for Integrated Cell-Material Sciences (iCeMS), which aims to advance cross-disciplinary research and technological innovation based on cell biology, chemistry, and physics. His laboratory is presently focussed on multidisciplinary research including screening of chemical compounds for control of stem cells, utilisation of biomaterials for stem cell research and application, and creation of neurodegenerative disease model cells using genetically modified human ES/iPS cells.
1. What led you to specialise in your current areas of research, including biomaterials?
I started my scientific career as a developmental biologist. My interests in mammalian development lead me to mouse embryonic stem (ES) cells in 1984 during my stay in London. After returning to Japan and establishing my own laboratory, our ES cell-related research extended to monkey and human ES cells, which further expanded my interests to include biomedical applications of such wonderful cell lines and synergic combinations with functional smart materials.
2. What projects are you working on at the moment? 
At present, I am leading a government-supported project of developing novel stem cell technologies which will enable large-scale 3D-culture production of quality-controlled human pluripotent stem cells, followed by differentiation into a number of cell lineages using various chemical compounds. I am collaborating with many public and private sector laboratories, combining different areas of expertise in multiple cross-disciplinary projects.
3. What do you presently think are the most important developments in your field, including in biomaterials?
Every frontier of the life sciences is now moving rapidly in a cross-disciplinary direction, in which we must work together and connect with each other in order to achieve novel and even higher-impact progress. For example, stem cells are exciting research subjects in both fundamental research and also in biomedical applications including in drug discovery. Likewise, biomaterials including biological or synthetically designed materials can now be used to create powerful tools and resources for biomedical research and applications.
Every week I scan more than 50 scientific journals looking for good examples of such cross-disciplinary research, posting relevant citations in the "Cross-Disciplinary Journal Club" on the iCeMS' website. The primary purpose of this is to inspire my iCeMS colleagues, but all scientists are welcome to visit the Journal Club and search for articles of interest. The address is: http://www.icems.kyoto-u.ac.jp/e/rsch/jrc/
4. You're one of the Editors-in-Chief for Biomaterials Science. What excites you most about your new role?
In my scientific career, I have been very interested in building networks and bridges among scientists in different fields and areas of expertise, in order to create new research frontiers. I am also interested in connecting basic research in universities to innovative applications in industry and society. My role as an Editor-in-Chief of our multidisciplinary journal gives me a new opportunity to contribute to such networking among scientists in multiple disciplines on a global scale. This is very exciting for me.
5. How would you describe your vision for the new journal?
Recent progress in molecular investigation of living cells and also in the synthesis of various functional smart materials has created unlimited opportunities for the integration of both fields, resulting in an innovative breakthrough opportunity on many frontiers. To realise this immense potential, both cellular and materials scientists, as well as basic science and application-focussed scientists, must work together to truly integrate their expertise. Our new journal will certainly play an important role in such necessary integration.
6. Mesoscopic science is an important part of the Biomaterials Science scope. Could you explain what this area is? 
Mesoscopic space exists between nanoscopic space (atoms and basic molecules) and bulk space (consisting of everything larger than one micron). In cellular mesoscopic spaces, handfuls up to several dozen biopolymers are in constant motion, while forming multi-molecular architectures such as cell membranes and other organelle structures, all constantly and robustly executing intricate cellular functions. From the point of view of materials science, the mesoscopic domain consists of complex, dynamic, multi-part components built up from nanoscopic building blocks consisting of handfuls of atoms and molecules. It is worth noting that the United States Department of Energy, sensing the vast possibilities of this realm, has recently started exploring the potential of mesoscale science (Science vol. 335, 1167, March 2012). In short, mesoscopic domains, lying between 1 nm and 1 µm, are a realm where materials become life, and life inspires materials.
7. Biomaterials Science is being launched as collaboration between the Royal Society for Chemistry and the Institute for Integrated Cell-Material Sciences (iCeMS) at Kyoto University, Japan. Could you briefly describe what iCeMS is to our readers?
The Japanese government's World Premier International Research Centre (WPI) Initiative aims to forge a new model for scientific institutions in Japan. This program seeks to 1) advance leading edge research, 2) create new interdisciplinary domains, 3) establish truly international research environments, and 4) reform existing research organisations. Our iCeMS was selected by competition and established in October 2007 as one of these WPI centres. I am its founding director, and our main concept is the integration of cell biology with material sciences (both chemistry and physics), which is providing the potential for a wide variety of novel research and innovation. Among these, we are channelling our efforts into two important emerging areas: stem cell science and technology, and mesoscopic science and technology. Also, such cross-disciplinary research is anticipated to lead to innovations in medicine, pharmaceuticals, the environment, and industry. For more information, please visit our website, http://www.icems.kyoto-u.ac.jp/e/rsch/jrc/
8. What advice would you give to students who will be the next generation of scientists?
I advise that young researchers should explore multiple fields of science during the early phase of their scientific careers, before it becomes necessary to specialise. Your scientific ability to examine and observe the target from multiple vantage points — and ultimately make the correct decision — will be considerably broader and more robust. Also, take heed of the advice from Song Dynasty scholar Zhu Xi (Chu Hsi): Youth quickly turns to old age, but achieving learning is fraught with difficulty.
9. If you weren't a scientist, what would you be?
Among various areas other than scientific research, I am most intensely interested in architectural design and music. I can easily spend many hours examining multiple ideas for the design of a new research institute building or residence. My interest in music is regrettably mostly confined to listening, as I have not had sufficient opportunity to train myself as a musician.
Biomaterials Science is now accepting submissions. All articles will be free to access until the end of 2014. Please contact the editorial office if you have any questions about the journal.
Don't forget you can Like us on Facebook or Follow us on Twitter to keep up with the latest news.
If you want to find out about the first articles once they're published online why not sign up for the Biomaterials Science RSS feed or Table of Contents alert.