Biomaterials Science has a broad scope that covers the fundamental science of biomaterials through to their biomedical applications. We'll be highlighting different areas of the scope over the next few months and this week its…
Molecular Design of Biomaterials
To celebrate this we've made a few articles published in RSC journals free to access for 4 weeks. I hope you enjoy reading them. 
Naoto Saito ,  Kaoru Aoki ,  Yuki Usui ,  Masayuki Shimizu ,  Kazuo Hara ,  Nobuyo Narita ,  Nobuhide Ogihara ,  Koichi Nakamura ,  Norio Ishigaki ,  Hiroyuki Kato ,  Hisao Haniu ,  Seiichi Taruta ,  Yoong Ahm Kim and Morinobu Endo
Chem. Soc. Rev., 2011, 40, 3824-3834
2. Feature Article: A material's point of view on recent developments of polymeric biomaterials: control of mechanical and biochemical properties
Varvara Gribova ,  Thomas Crouzier and Catherine Picart
J. Mater. Chem., 2011, 21, 14354-14366
3. Emerging Area: Emerging area: biomaterials that mimic and exploit protein motion 
William L. Murphy
Soft Matter, 2011, 7, 3679-3688
Cameron P. Brown ,  Federico Rosei ,  Enrico Traversa and Silvia Licoccia
Nanoscale, 2011, 3, 870-876
5. Paper: Tuning the swelling and mechanical properties of pH-responsive doubly crosslinked microgels using particle composition
Ruixue Liu ,  Amir H. Milani ,  Jennifer. M. Saunders ,  Tony J. Freemont and Brian R. Saunders
Soft Matter, 2011, 7, 9297-9306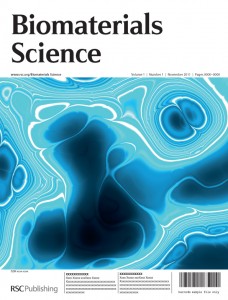 Articles in Biomaterials Science will be free to access* until the end of 2014 so they'll reach the widest possible audience. We hope you'll support Biomaterials Science by submitting your next article to the journal.
*Individuals can access the content by signing up for an RSC Publishing Personal Account. Existing institutional RSC journal subscribers, with registered IP, have automatic access. Other institutions can register for free access.
Sign up sign up for the Biomaterials Science RSS feed or Table of Contents alert to read the first articles once they're published online.
To keep up with the latest news you can Like us on Facebook or Follow us on Twitter.