This update includes further performance improvements and improved functionality for the RSC Publishing Platform:  
A new Compounds tab now displays the key chemical compounds from a journal article when it has been semantically enriched via RSC's Project Prospect. Each compound links back to ChemSpider to access its 400 chemical data sources for compounds and users can also find related RSC journal articles containing the same compound. Try it now by clicking on the 'Compounds' tab in the article – Total synthesis of (±)-Vertine with Z-selective RCM as a key step, Laetitia Chausset-Boissarie, Roman Àrvai, Graham R. Cumming, Céline Besnard and E. Peter Kündig, Chem. Commun., 2010, 46, 6264.
Our Rich HTML (Project Prospect view) has been greatly simplified and visually improved. Try now for Chem. Commun., 2010, 46, 6264 by following the Rich HTML link. Compounds highlighted in the Rich HTML also link through to ChemSpider.
We fixed a bug where it was not possible to access RSC free content using an institutional username or federated access (Athens/Shibboleth) from the  article landing page.
For older articles, where we do not have author abstracts (for a variety of reasons), we now display an image of the first page of the article, so that you can now use this as an abstract.  Try now for this historic article, On some analyses of modern "dry" champagne, Otto Rosenheim and Philip Schidrowitz, Analyst, 1900, 25, 6.
To accommodate the new first-page abstracts, the login box for any users not recognised through IP authentication now appears above the PDF download link. This is a more logical placement.
Journal Landing Page / Home Page 
We have created an issue tab for archive journals to provide consistency in the interface with the current titles.
We've made the article finder more prominent on the journal page as users were not finding it below the page fold. We may consider moving the Article Finder higher up the page, depending on your feedback.
Following your feedback, we're in the process of removing the expanding 'tree' navigation in 'Browse Journal' on the journal homepages in favour of a drop-down menu system.  The tree navigation was complex for some titles (such as Organic & Biomolecular Chemistry) as it displayed the previous names for each journal, providing a 'journal family' history. This journal family history has been removed following your feedback and for the moment we are displaying navigation only for the single journal being viewed. This is the same level of functionality that will be available when we launch the drop-down menu navigation in the next release.
 Mobile Site 
Mobile versions of the journal home pages are now available and give quick access for our mobile users. We do not display graphical abstracts for speed considerations. This is particularly important when accessing content over 2G and 3G networks. Graphical abstracts are available on the mobile pages for individual articles.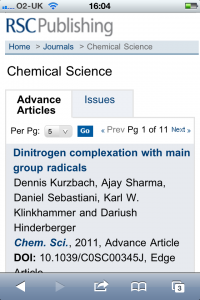 Site Homepage
Added a link to watch the demo video of the RSC Publishing Platform.
Librarians Portal 
The IP addresses registered for your institution can now be viewed.

[21 Dec 2010, Updated – this functionality will now be released in Jan or Feb 2011.]

If an institutional branding logo is smaller than the 150×30 pixels template, white space is now added to the image rather than stretching it to fit.
Improvements were made to the profile management for librarians to allow name changes.
The registration process for a librarian account has been simplified.
A new form has been created to enable new customers to register their IPs.
Bug Fixes 
We have fixed the broken navigation when navigating between issues where there was a change of journal name / ISSN.
PDFs were downloading with file names such as "1996-01-01.pdf", and are now correctly named by article ID, which is unique.
We fixed a navigation error when the expanding tree navigation redirected users to the wrong  issue.
Front and back matter for older content (pages starting X) was breaking the page range description on the issue home page. 
To keep up to date with the RSC Publishing Innovation blog, sign up to the RSS feed.