Annamaria Petrozza, Istituto Italiano di Tecnologia (IIT), Italy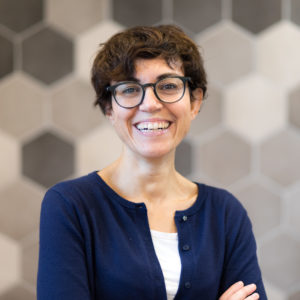 Annamaria Petrozza is a Tenured Senior Scientist at the Istituto Italiano di Tecnologia (IIT). She was awarded a Master of Science degree in Electronic Engineering at Ecole Supèrieure d'Electricité (Paris, France) in 2003 and at Politecnico di Milano in 2014 under the T.I.M.E. (Top Industrial Manager in Europe) program. In 2008 she received her PhD in Physics from the University of Cambridge (Cambridge, UK) with a thesis on the study of optoelectronic processes at organic and hybrid semiconductors interfaces, under the supervision of Prof J.S Kim and Prof Sir R.H. Friend. From 2008 to 2009 she worked as staff scientist at the Sharp Laboratories of Europe, Ltd (Oxford, UK) on the development of new market competitive solar cell technologies. In 2010 she joined the newly founded Center for Nano Science and Technology (CNST) of IIT in Milan. Since 2013 she leads the "Advanced Materials for Optoelectronics" Research Line at CNST.  Her research is focused on the development of new, sustainable, optoelectronic technologies which can be extensively integrated in the everyday life. She is an expert in solution processable semiconductors and in time-resolved optical spectroscopy. Her studies mainly aims to shed light on interfacial optoelectronic mechanisms, which are fundamental for the optimization of operational processes, with the goal of improving device efficiency and stability. She got the "Innovators Under 35 Italy 2014" award by the MIT Technology Review for her pioneering work on perovskites. She is a 2017 ERCcoG grantee.
Submit your best sustainable energy and fuels research to Annamaria Petrozza now!
Read Annamaria's recent work here:
Enhanced solar cell stability by hygroscopic polymer passivation of metal halide perovskite thin film
Min Kim, Silvia G. Motti, Roberto Sorrentino and Annamaria Petrozza
Energy Environ. Sci., 2018,11, 2609-2619 – doi.org/10.1039/C8EE01101J