It is with our great pleasure to announce Prof. Kerry Gilmore (University of Connecticut, USA) and Prof. Karen Robertson (University of Nottingham, UK) as joint winners of the 2022 Reaction Chemistry & Engineering Outstanding Early-Career Paper Award.
This is in recognition of their leadership of the paper, 'Rapid optimisation of API crystallisation in a segmented flow reactor with a continuous, variable temperature gradient', DOI: 10.1039/D2RE00183G
Check out this bespoke infographic summarising the paper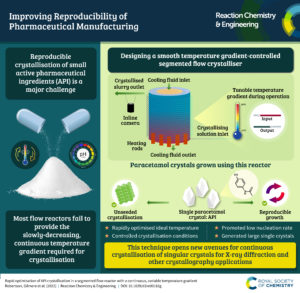 Please join us in congratulating Prof. Gilmore and Prof. Robertson!
About the winners
| | |
| --- | --- |
| | Kerry Gilmore is an Assistant Professor at the University of Connecticut, USA. He received his PhD from Florida State University in 2012 and did a Postdoctoral Fellowship at the Max-Planck Institute of Colloids and Interfaces. He was a Research Group Leader at the same institution prior to his appointment at the University of Connecticut. Dr Gilmore's research group use flow chemistry as a platform to provide reproducibility, efficiency and access to controlled reaction conditions. This approach is applied to a broad range of applications within organic chemistry, such as the development of new reactions, mechanistic studies and multistep synthesis. Find out more about the Gilmore Lab here |
| | |
| --- | --- |
| Karen Robertson is an Assistant Professor at the Faculty of Engineering at the University of Nottingham, UK. She completed her PhD at Imperial College London in 2012 focusing on targeting interconnected MOF architectures through multi-podal ligand design. She then worked closely with industry in a Knowledge Transfer Partnership between Clariant Oil Services and the University of Leeds developing new corrosion inhibitors and improved in vivo test methodology for the oil and gas industry. In 2013 she joined the EPSRC Centre for Innovative Manufacturing for Continuous Manufacturing and Crystallisation (CMAC, now a Future Manufacturing Hub) at the University of Bath focussing on crystal engineering techniques for agrochemical optimisation and the development of lab-based flow crystallisers. Dr Robertson is interested in using flow technologies to understand and control how self-assembling systems come together using a range of different flow regimes such as liquid segmented, single phase turbulent and laminar flow. Find out more about Dr Robertson's research here. | |
Check out the interview with Prof. Robertson and Prof. Gilmore below:
Can you briefly summarise your paper?
KG: Reproducible crystal formation often remains one of the last great art forms in science, as a myriad of factors need to be controlled time after time in order to get not just crystals to form, but also the size and shape of crystals targeted. One of the easiest ways to form crystals is by dissolving a material in a hot solvent and slowly cooling that solution down. To date, technology has only allowed us to do this in flasks/tanks (batch processes), meaning that a discrete amount of sample can be crystallized at any one time. Flow chemistry offers significant advantages with respect to reproducibility as compared to batch, and allows for continuous operation, increasing output in a greener way. However, there was no way to create the smooth temperature gradient required for controlled crystallization. In this work, we discuss the development of a flow chemistry reactor that allows for a solution to pass through a variable temperature gradient, taking a heated solution and cooling it at the chosen rate. We show that this allows for controlled, reproducible, continuous crystal formation. This reactor platform will allow for a more standardized and even automated screening of crystal formation, with the potential to aid in understanding and predicting solubility.
What aspect of your work are you most excited about at the moment?
KG: I am most excited about the possibility to expand this platform to incorporate the ability to screen different solvent solutions and structural variants of a given target. That would allow us to automate the optimization of crystallization conditions. It would also ideally allow us to build a model that could predict whether reagents, byproducts, or products of a given reaction will be soluble, which would be very important for flow chemistry.
KR: I'm really excited about the strides we've been making integrating in situ X-ray diffraction with flow crystallisation. Our advances in new flow crystallisation control (such as the KRAIC-G) and the way we can now integrate single crystal and powder diffraction are coming together in a way that means we can explore and understand so much more.
Where do you see the field of flow chemistry in five years time?
KG: A combination of more inexpensive Lego-type systems that users can plug in what they want, with software guiding their development and controlling the developed system so non-experts can easily use it, and fully automated, remotely accessible platforms where users can simply log in, generate experimental data, make samples, in a fully reproducible manner without any physical equipment or expertise required in their labs. With open hardware, the rate at which developments and discoveries are made in chemistry will skyrocket.
KR: I think the highly interdisciplinary backbone of flow chemistry is really being embraced with data scientists, mathematicians, physicists and many more. I believe this will be a strength that increases going forwards in the next five years. We've seen amazing automation and machine learning enhanced leaps that I think will spread through the multivariant approaches already being developed and non-steady-state exploration of reaction pathways.
How do you feel about Reaction Chemistry & Engineering as a place to publish research on this topic?
KG: Reaction Chemistry & Engineering is a great journal, where pretty much every article is focusing on a different facet of the fields I'm interested in. It allows you to step back and, looking through each issue, see how the field is growing, developing, and really attacking the challenges we face in making molecules and understanding how to do that better.
KR: I think RCE is a great journal which appeals to both chemists and engineers. It can often be difficult to target where you publish new engineering approaches that enable new chemistries/understanding and I think RCE fills that gap perfectly.
How do you like to spend your time when not doing research?
KG: I spend pretty much all of my time outside of lab with my family (wife and two young daughters). I also really like woodworking and being outdoors, whether in the yard, walking in the woods, or being at the beach.
KR: I like to keep active either doing yoga, walking or climbing, living near the Peak District is great for that. Equally I'm as happy sitting reading a good book. Finding a way to switch off is essential in our world.
Can you share one piece of career-related advice for those beginning their research career?
KG: Stop stressing about what other people are doing, or that they are probably working much harder than you or publishing more than you. It's fine. This is a long road, and if you focus too much on what everyone else is doing, you're not going to have the mental health required to be creative or supportive – the two biggest skills you need to succeed. Go after problems that you think are interesting, work on projects that maybe take a bit longer at first to get going, because those are the ones that will pay off the most, and the ones that you'll continue to be motivated to work on. If in starting a project you know what's going to happen, and you know exactly how to get there, then that project is too easy and not worth doing.
KR: Talk to people. Lots of people. I get so many ideas and so much energy from just chatting with other researchers. Don't be afraid to just go up to talk to someone or email someone, you never know how it can turn out. I met Kerry at a conference and the chat we had there turned into a friendship and this great piece of work we've published here 😊
Read the Open Access paper 
Rapid optimisation of API crystallisation in a segmented flow reactor with a continuous, variable temperature gradient
Karen Robertson, Peter H. Seeberger and Kerry Gilmore
React. Chem. Eng., 2023,8, 77-83, DOI: 10.1039/D2RE00183G
About the award
The aim of the Reaction Chemistry & Engineering Outstanding Early-Career Paper Award is to recognise a researcher in the earlier stages of their research career for their leadership in reporting original research published in the journal.
The journal Editorial Board award this prize annually, selecting the paper which they find to demonstrate the highest quality of research, as well as importance to the advancement of the field of reaction engineering, out of all qualifying papers published in the journal each year.
Eligibility
In order to be eligible for this award, the candidate must:

Be listed as a corresponding author on the paper
Currently be an independent research leader
Have either a) received their PhD on or after 1st January of the year 12 years prior to the award year (2009 for prize year 2021) or b) spent no more than an equivalent amount of time in research when taking into account any career breaks.
Have a paper featured in the journal's Emerging Investigator Series – further information about eligibility for the Emerging Investigator Series can be found here. The Editorial Office will consider applications to the Series on their own merit; please contact us if you are interested in being considered for the series or nominating an exceptional early-career colleague.
Not be a previous winner of this award
Selection Process
To choose the winner of the 2021 Reaction Chemistry & Engineering Outstanding Early-Career Paper Award, a shortlist of eligible articles that were published throughout the year were selected by the editorial office and then subsequently assessed by the journal's Editorial Board. The winner was selected based upon the significance, impact and quality of the research.
Prize
The winner of the Reaction Chemistry & Engineering Outstanding Early-Career Paper Award will receive an engraved plaque, a bespoke infographic from Impact Science for the winning paper and £500 cash award that would be used for conference travel/attendance of their choice.
To have your paper considered for the 2023 Reaction Chemistry & Engineering Outstanding Early-Career Paper Award, indicate when prompted upon submission of your revised manuscript if a corresponding author of the paper fulfils the criteria to feature in the Emerging Investigator Series. If accepted, your paper will be added to the ongoing collection and will be considered for the award. Multiple eligible authors of a winning paper will share the prize fund equally. You can contact the editors at reactionchemeng-rsc@rsc.org if you have any queries.