We are delighted to welcome Professor Anita Maguire to the Reaction Chemistry & Engineering Editorial Board.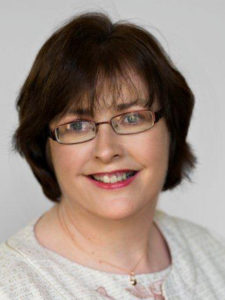 Anita is Professor of Pharmaceutical Chemistry, Director of the Analytical & Biological Chemistry Research Facility, and Vice President for Research & Innovation, at University College Cork, Ireland.
Anita's research interests are within synthetic organic chemistry and pharmaceutical chemistry, and a key feature of her research team is extensive interaction with the pharmaceutical industry both within Ireland and internationally.
Anita undertook undergraduate and postgraduate studies at University College Cork (B.Sc., 1985; Ph.D., 1989), focusing during her studies on asymmetric catalysis in reactions of α-diazoketones. Following postdoctoral research in the Facultes Universitaires, Namur, Belgium, and subsequently at the University of Exeter, she returned to Cork in 1991 initially as a Lecturer in Organic Chemistry, then as Associate Professor of Organic Chemistry in 2002, and then as the first Professor of Pharmaceutical Chemistry in 2004. In 2011 she was appointed as Vice President for Research and Innovation at University College Cork. She was an Adjunct Professor at the University of Bergen from 2011-16. Her research interests include asymmetric synthesis, including transition-metal catalysis and biocatalysis, the development of novel synthetic methodology employing α-diazocarbonyl compounds, organosulfur chemistry, and continuous flow chemistry, and the design and synthesis of bioactive compounds with potential pharmaceutical applications. Anita is a co-PI in the Synthesis and Solid State Pharmaceutical Centre (SSPC). She is the inaugural Chair of the National Forum on Research Integrity and was elected a Member of the Royal Irish Academy in 2014.
Please join us in warmly welcoming Anita to the Reaction Chemistry & Engineering Editorial Board!