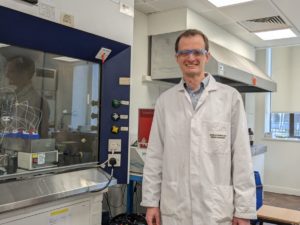 Professor Nicholas Warren graduated with a PhD in Chemistry from the University of Sheffield in 2012 specialising in Polymer synthesis and self-assembly under the supervision Prof Steve Armes and Prof Beppe Battaglia. He continued as a post-doc in Sheffield where he worked with Prof Steve Armes to develop new block copolymer materials using polymerisation-induced self-assembly, with a particular focus on hydrogels for stem-cell storage. In 2016 he was appointed as a University Academic Fellow at the University of Leeds and was subsequently promoted to Associate Professor in 2021. His research group focusses on enhancing precision of controlled polymer synthesis through the application of new 'enabling' technologies, including flow-reactors, online monitoring and artificial intelligence. His contribution to this field resulted in him being awarded the Macro Group UK Young Researchers Medal in 2022.
Read Nick's Emerging Investigator article, 'Continuous synthesis of block copolymer nanoparticles via telescoped RAFT solution and dispersion polymerisation in a miniature CSTR cascade', DOI: 10.1039/D2RE00475E
How do you feel about RCE as a place to publish research on this topic?
Within our group we are striving to develop technologies which can accelerate R&D in polymer science, but many aspects are highly transferrable across the chemical sciences. In this context, publication of RCE enables us to disseminate our work to this broader audience in the hope that it will enhance impact across the discipline.
What aspect of your work are you most excited about at the moment and what do you find most challenging about your research?
Within science and engineering, advanced technologies such as automation and AI are having a huge impact. We are really excited to be able to apply these for developing the next generation of polymer materials and to encourage uptake across the discipline. As a chemist by trade, there is a steep learning curve in the context of automation, and from a physical aspect there are many challenges associated with dealing with polymer materials such as mixing, flowing and separation.
In your opinion, what are the most important questions to be asked/answered in this field of research?
The major question in the field is whether it is possible to generate new polymers which can be sustainable, affordable and provide the performance beyond that of current materials. Current R&D approaches are not sufficient to provide these materials on reasonable timescales, so it needs to be determined whether developing new technologies can do so.
Can you share one piece of career-related advice or wisdom with other early career scientists?
Until now, my strategy has consisted of leveraging my existing knowledge and combining it with novel and unfamiliar concepts that I believe can make a significant difference in areas I am passionate about. To do this effectively, my advice is to establish an interdisciplinary network comprising individuals from both industry and academia across all career stages, recognising that these relationships will continue to be valuable for the rest of your career.
Find out more about Nick's research on his website
Follow Nick and his research group on these social media:
Twitter: @njwarren1, @CpegLeeds1