It is our great pleasure to announce Dr Rosa Cuéllar-Franca (University of Manchester, UK) as the winner of the 2021 Reaction Chemistry & Engineering Outstanding Early-Career Paper Award.
This is in recognition of her leadership of the paper, 'A life cycle approach to solvent design: challenges and opportunities for ionic liquids – application to CO2 capture', DOI: 10.1039/D0RE00409J
Check out this bespoke infographic summarising the paper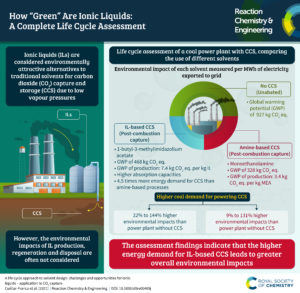 Please join us in congratulating Dr Cuéllar-Franca!
About the winner
| | |
| --- | --- |
| | Dr Rosa M. Cuéllar-Franca received her BEng in Chemical Engineering from the Technological Institute of Tijuana, Baja California, Mexico and her MSc in Environmental Technology and PhD in Chemical Engineering from The University of Manchester, under the supervision of Prof Adisa Azapagic. She is a Senior Lecturer in the Department of Chemical Engineering at The University of Manchester and, prior to her appointment, she worked as a postdoctoral research associate on the programme grant "A coordinated comprehensive approach to carbon capture and utilisation". |
Rosa's research focuses on the sustainability assessment of novel technologies for climate change mitigation, providing quantitative evidence that enables targeted improvements at various system levels, e.g. molecular and process design, process operation, policy making. She is an expert in life cycle assessment and life cycle costing, and her current work centres around developing more environmentally sustainable ionic liquids, catalysts and nanomaterials for cleaner technology development.
Read our interview with Dr Rosa Cuéllar-Franca
Can you briefly summarise your paper?
This work applies a life cycle thinking approach to evaluate the environmental sustainability performance of ionic liquids used in carbon capture with respect to conventional amine-based solvents. The main purpose of this work is to identify opportunities and make recommendations for improving ionic liquid-based technologies, such as addressing molecular-level weaknesses that will have a direct effect on the operating conditions of a process or exploiting their strength by redesigning separation equipment altogether.
What aspect of your work are you most excited about at the moment?
I am currently working on establishing correlations between the synthesis steps of ionic liquids and their environmental impacts to construct predictive models, in an effort to make environmental-related properties more accessible to researchers and scientists designing ionic liquids. I have developed, in collaboration with colleagues at Manchester and the University of Bologna, a proof of concept with a group of imidazolium-based ionic liquids and the results are promising.
Where do you see the field of 'green' solvent development for environmental applications in five years time?
Life cycle assessment will become an integral part in the design of new solvents and materials applied to low-carbon technologies to ensure that these are more environmentally sustainable on a life cycle basis and that climate change is not mitigated at the expense of other environmental impacts currently neglected but equally important.
How do you feel about Reaction Chemistry & Engineering as a place to publish research on this topic?
Reaction Chemistry & Engineering is a great platform for disseminating interdisciplinary research, which addresses environmental sustainability challenges across various industrial sectors. The journal evidently recognises the life cycle assessment (LCA) methodology as a powerful engineering tool for finding improved solutions for process development. I look forward to publishing and reading more LCA related studies in RC&E.
How do you like to spend your time when not doing research?
I enjoy traveling with my husband, visiting new places and spending quality time with our friends and family who live in different parts of the world such as Switzerland, Germany, California and Portland in the US, and of course my hometown Tijuana, located in the beautiful Baja California in Mexico. I also enjoy oil and watercolour painting, visiting art galleries and to read (preferably at the beach).
Can you share one piece of career-related advice for those beginning their research career?
Do not become discouraged if your research ideas are not being funded at first, you can be resourceful in other ways (e.g. applying for pump-priming funding, hosting visiting PhD students), to mature your idea into a proof of concept. You may have to do most of the work yourself, which will require time, patience and determination, but this also comes with immense rewards.
Building and relying on a research support network for guidance and mentoring is an invaluable resource.
Read the paper for FREE until 31 March 2023
A life cycle approach to solvent design: challenges and opportunities for ionic liquids – application to CO2 capture
Rosa M. Cuéllar-Franca, Pelayo García-Gutiérrez, Jason P. Hallett and Niall Mac Dowell
React. Chem. Eng., 2021,6, 258-278, DOI: 10.1039/D0RE00409J
About the award
The aim of the Reaction Chemistry & Engineering Outstanding Early-Career Paper Award is to recognise a researcher in the earlier stages of their research career for their leadership in reporting original research published in the journal.
The journal Editorial Board award this prize annually, selecting the paper which they find to demonstrate the highest quality of research, as well as importance to the advancement of the field of reaction engineering, out of all qualifying papers published in the journal each year.
Eligibility
In order to be eligible for this award, the candidate must:

Be listed as a corresponding author on the paper

Currently be an independent research leader

Have either a) received their PhD on or after 1st January of the year 12 years prior to the award year (2009 for prize year 2021) or b) spent no more than an equivalent amount of time in research when taking into account any career breaks.
Have a paper featured in the journal's Emerging Investigator Series – further information about eligibility for the Emerging Investigator Series can be found here. The Editorial Office will consider applications to the Series on their own merit; please contact us if you are interested in being considered for the series or nominating an exceptional early-career colleague. 

Not be a previous winner of this award
Selection Process
To choose the winner of the 2021 Reaction Chemistry & Engineering Outstanding Early-Career Paper Award, a shortlist of eligible articles that were published throughout the year were selected by the Editorial Office and then subsequently assessed by the journal's Editorial Board. The winner was selected based upon the significance, impact and quality of the research.
Prize
The winner of the Reaction Chemistry & Engineering Outstanding Early-Career Paper Award will receive an engraved plaque, a bespoke infographic from Impact Science for the winning paper and £500 cash award that would be used for conference travel/attendance of their choice.
To have your paper considered for the 2023 Reaction Chemistry & Engineering Outstanding Early-Career Paper Award, indicate when prompted upon submission of your revised manuscript if a corresponding author of the paper fulfils the criteria to feature in the Emerging Investigator Series. If accepted, your paper will be added to the ongoing collection and will be considered for the award. Multiple eligible authors of a winning paper will share the prize fund equally. You can contact the editors at reactionchemeng-rsc@rsc.org if you have any queries.