Dr. M. Ali
Haider has completed his M.S. and Ph.D. in Chemical Engineering at the University of Virginia and B.Tech from Indian Institute of Technology (IIT) Guwahati. He has joined the Department of Chemical Engineering at IIT Delhi in 2013. He visited the Catalysis Center for Energy Innovation at the University of Delaware on a 'Bioenergy-Award for Cutting Edge Research' Fellowship sponsored by the Indo–US Science and Technology Forum. His research interests are focused on experimental and density functional theory (DFT) based theoretical heterogeneous catalysis applied to the development of biorenewable fuels/chemicals, fuel cells and batteries. He has received the 'Dr. A.P.J Abdul Kalam HPC Award for R & D in HPC Applications' by Hewlett Packard Enterprise and Intel. In addition, he is a recipient of the Amar Dye-Chem Award for 'Excellence in Basic Research and Development in Chemical Engineering' by the Indian Institute of Chemical Engineers, DAE-BRNS Young Scientist Award, Gandhian Young Technological Innovation Award, Institution of Engineers (India) Young Engineers Award. His research work published in the Journal of Materials Chemistry A is included in Editor's Choice Collection on Machine Learning for Materials Innovation and he has received a certificate of appreciation from the Royal Society of Chemistry as highly cited author in the Energy & Sustainability portfolio of journals. At IIT Delhi, his contributions in teaching and research are noted at several occasions as 'Industry Relevant Best PhD Thesis Supervision', 'Teaching Excellence Award' and 'Early Career Research Award'. Currently, he is serving as a member of Indian National Young Academy of Sciences to popularize science education at various forums in India.
Read his Emerging Investigator article "Tracing the reactivity of single atom alloys for ethanol dehydrogenation using ab initio simulations" and read more about his in the interview below: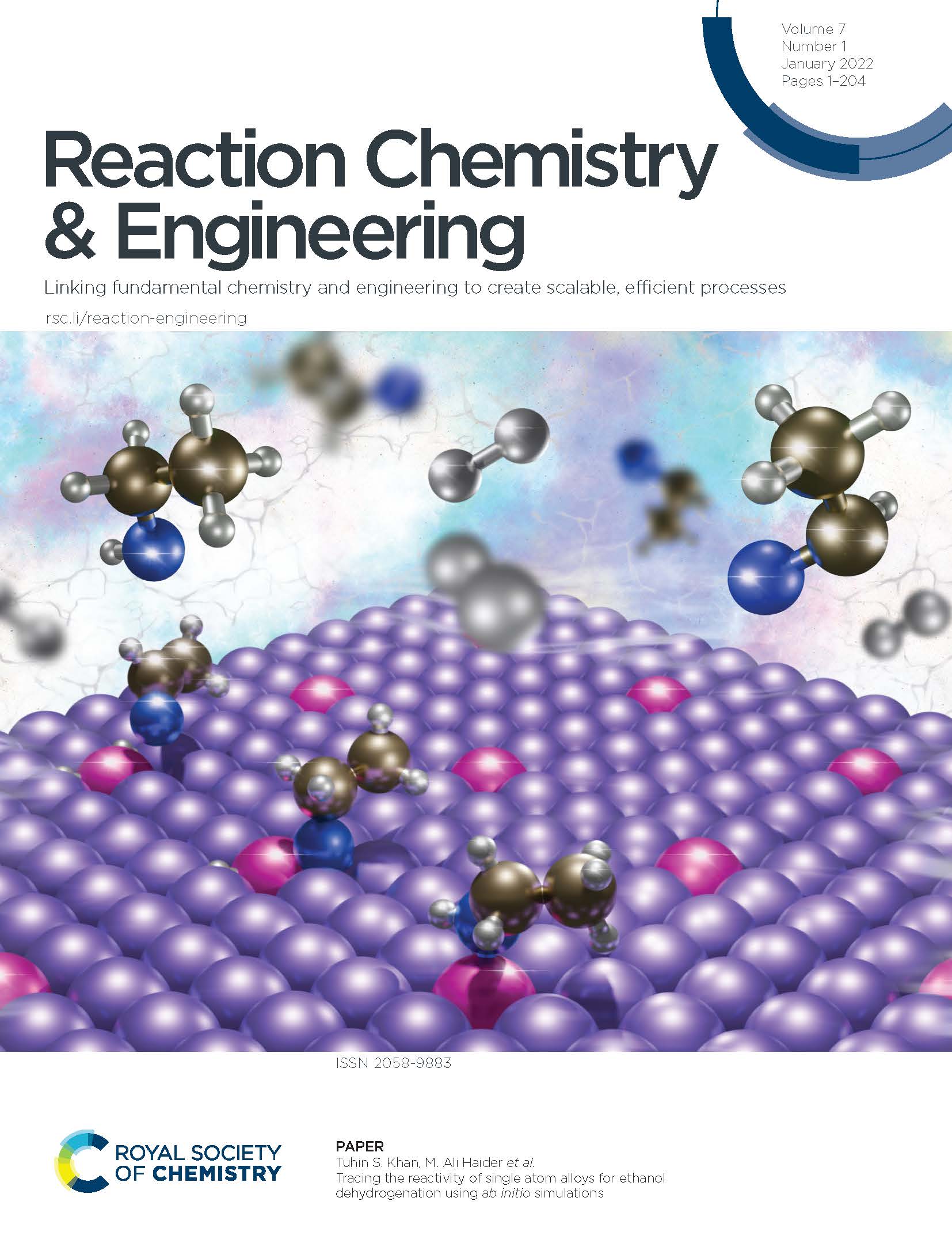 How do you feel about Reaction Chemistry & Engineering as a place to publish?
Our group is passionate about applying the concepts in reaction engineering and catalysis to provide sustainable solutions for energy and environment. Being an amalgamation of both chemistry and engineering, Reaction Chemistry & Engineering provides a great platform for us to explain the functioning of catalytic materials at the molecular level so as to provide an engineering solution. Also, we look forward to see our work peer reviewed by highly experienced reviewers at Reaction Chemistry & Engineering.
What aspect of your work are you most excited about at the moment and what do you find most challenging about your research?
We are working at multiple levels in heterogenous catalysis and reaction engineering by combining theoretical knowledge with experiments. In catalytic transformation of biomass-derived platform chemicals, we have been focused on developing new routes for integrated bio and chemo-catalysis. Here we have identified the interaction of biogenic impurities with the heterogenous catalyst as a challenge, which may be circumvented by rational catalyst design with a mechanistic insight on catalyst deactivation.
Another opportunity is foreseen in complex reaction environment, where engineering the solvation environment is helping us to achieve desired reaction rates in bio-renewable processing. Theoretical tools to tailor the catalyst and reaction environment is augmenting our work in two ways. For one, density functional theory calculations are leading a mechanistic rationale for the reaction and catalyst design. For two, ab initio microkinetic modelling combined with machine learning approaches is helping us to fast-track the catalyst screening process for experimental testing. This mechanistic approach on rational catalyst design is further extended in our work to study reactions on single atom alloys and nanoclusters. In both the cases, we are observing the breakdown of some of the fundamental understandings, which have been guiding catalysis on bulk materials. This is leading us to think catalysis at the atomic scale, step by step, mechanistically and rationally, for the research coordinates ahead in our academic life.
In your opinion, what are the most important questions to be asked/answered in this field of research?
Reactions conducted on single atom catalysts and nanoscale clusters are opening a new window for us to look at catalysis and reaction engineering with an entirely different lens. We realise that this is only a beginning and a lot to be uncovered. The major challenges remain are the synthesis, stability and scale-up of catalytic processes using such materials. However, at a fundamental level, the discussion on reaction mechanisms and catalyst active sites are engaging the inquisitive mind. Theoretical tools and specifically machine learning methods are creating hope for fast-track solutions. However, a caution has to be emphasized here on correct interpretations of results and the choice of dataset. This is elucidated in our paper on 'Tracing the reactivity of single atom alloys for ethanol dehydrogenation using ab initio simulations', published in Reaction Chemistry & Engineering.
Can you share one piece of career-related advice or wisdom with other early career scientists?
A right mix of motivation and patience holds the key in research. Solutions may come quick or may take a long time. However, success only depends on perseverance for a long period in research, where one is consistently contributing, solving deeper mysteries of a scientific problem. This may appear an age old recipe and it will remain true for many more generations of scientists who are committed to the scholarly pursuits.
Keep up to date with M. Ali Haider and his research by visiting his group website, the REC Lab