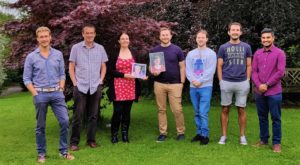 Ulrich Hintermair studied Chemistry and Chemical Engineering in Würzburg and Lyon, finishing with a Master project at the University of St Andrews. After a PhD on continuous-flow catalysis using supercritical fluids with Walter Leitner at Aachen, he was a Humboldt fellow with Bob Crabtree at Yale University. In 2013, he started his independent career at the CSCT in Bath where he currently holds a Royal Society University Research Fellowship. Besides fundamental coordination chemistry and organometallic synthesis, he is most interested in finding out how catalytic reactions work, for which his team uses a combination of online and in-situ analytical techniques (see https://www.bath.ac.uk/research-facilities/dynamic-reaction-monitoring-facility/).
Read his Emerging Investigator article "Engineering Aspects of FlowNMR Spectroscopy Setups for Online Analysis of Solution-Phase Processes" and read more about him in the interview below:
What aspect of your work are you most excited about at the moment and what do you find most challenging about your research?
I'm convinced that there are many exciting opportunities for "real life" analytics in a number of areas if one moves away from the old adapt-your-sample-to-the-analysis doctrine and starts modifying instruments to suit the application in question. A challenge in doing this is to assemble a team that includes instrument manufacturers that are open to the idea, but you'd be surprised what is possible if you find the right people.
Keep up to date with Ulrich and his research by finding him on Twitter (@HintermairLab & @DreamFacility)