It is our great pleasure to announce Professor Heidrun Gruber-Woelfler (TU Graz, Austria) as the winner of the inaugural (2019) Reaction Chemistry & Engineering Outstanding Early-Career Paper Award.
This is in recognition of her leadership of the paper
Development of customized 3D printed stainless steel reactors with inline oxygen sensors for aerobic oxidation of Grignard reagents in continuous flow
by Manuel C. Maier, René Lebl, Philipp Sulzer, Josef Lechner, Torsten Mayr, Matej Zadravec, Eyke Slama, Stefan Pfanner, Christoph Schmölzer, Peter Pöchlauer, C. Oliver Kappe and Heidrun Gruber-Woelfler
React. Chem. Eng., 2019, 4, 393-401
DOI: 10.1039/C8RE00278A
Part of the special issue Reaction Chemistry & Engineering Emerging Investigators 2019
This paper is free to access until 31 December 2020.
Please join us in congratulating Professor Gruber-Woelfler!
About the winner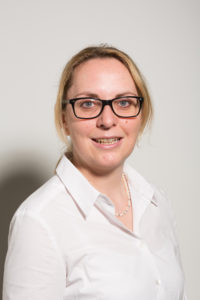 Assoc. Prof. Heidrun Gruber-Woelfler studied technical chemistry at Graz University of Technology, Austria with a focus on chemical engineering. After her PhD dealing with organometallic catalysis, she did her Post-Doc in the area of continuous processes for the synthesis and purification of active pharmaceutical ingredients and finished her habilitation (venia docendi) in the field of Pharmaceutical Engineering in 2018.
Since 2007 she is the head of the research group "Continuous Processes" at the Institute of Process and Particle Engineering, Graz University of Technology and since July 2017 Deputy Director of the Center of Continuous Flow Synthesis and Processing (CCFlow) in Graz. Her current projects deal with heterogeneous (bio)catalysis for API synthesis, design and optimization of continuous processes, reactor design including additive manufacturing as well as real-time analyses.
An interview with Professor Gruber-Woelfler
Can you briefly summarise this paper?
In this paper our concept for the development of different customized 3D printed stainless steel reactors is presented. Starting with a 3D printed micro CSTR cascade as a tool to determine the reaction rate and in combination with computational fluid dynamics simulations, a split-and-recombine reactor was designed with novel 3D printed three-dimensional structures and adapted exactly to the requirements of aerobic oxidations of Grignard reagents.
What aspect of your work are you most excited about at the moment?
Although these are currently definitely challenging times, I am really excited about technologies such as additive manufacturing and computer aided design and optimization. In combination with a genius and interdisciplinary team, there are currently so many fascinating possibilities to improve and redesign traditional approaches.
Where do you see the field of reactor engineering in five years?
As already mentioned, the fields of continuous processing, computer aided design and optimization, additive manufacturing and real-time analyses will get even more important in chemical reactor engineering. Currently, modern reactor manufacturing is often compared with the LEGO® technology. However, 3D printing is even better because you have almost unlimited possibilities to design your own LEGO® bricks or the complete set-up.
How do you feel about Reaction Chemistry & Engineering as a place to publish research on this topic?
The journal of Reaction Chemistry & Engineering is definitely an open-minded place where the mentioned topics are published and shared with a large readership.
How do you like to spend your time when not doing research?
When not doing research or teaching, I try to spend maximum time with our kids outdoors.
Can you share one piece of career-related advice or wisdom for those beginning their research career?
Every single project as well as every phase in life has its ups and downs. Even if others tell you that your way might not be the direct one, keep your track and continue walking and you will soon enjoy the view from the top.
About the award
The aim of the Reaction Chemistry & Engineering Outstanding Early-Career Paper Award is to recognise a researcher in the earlier stages of their research career for their leadership in reporting original research published in the journal.
The journal Editorial Board award this prize annually, selecting the paper which they find to demonstrate the highest quality of research, as well as importance to the advancement of the field of reaction engineering, out of all qualifying papers published in the journal each year.
Eligibility
In order to be eligible for this award, the candidate must:
Be listed as a corresponding author on the paper

Currently be an independent research leader

Have either a) received their PhD on or after 1st January of the year 12 years prior to the award year (2007 for prize year 2019) or b) spent no more than an equivalent amount of time in research when taking into account any career breaks.

Not be a previous winner of this award
Selection Process
In order to choose the winner of the 2019 Reaction Chemistry & Engineering Outstanding Early-Career Paper Award, a shortlist of articles that were published throughout the year were selected by the editorial office and then subsequently assessed by the journal's Editorial Board members. The winner was selected based upon the significance, impact and quality of the research.
Prize
The winner of the Reaction Chemistry & Engineering Outstanding Early-Career Paper Award will receive an engraved plaque and a travel bursary of £500 to use towards a meeting (or meetings) of their choice.
To have your paper considered for the 2020 Reaction Chemistry & Engineering Outstanding Early-Career Paper Award, indicate when prompted upon submission of your revised manuscript if a corresponding author of the paper fulfils these criteria. Multiple eligible authors of a winning paper will share the prize fund equally. You can contact the editors at reactionchemeng-rsc@rsc.org if you have any queries.