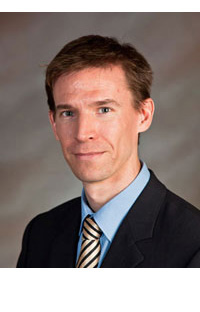 We are delighted to announce that Professor Ian Baxendale has joined the Reaction Chemistry & Engineering Editorial Board as a Scientific Editor, helping to ensure articles meet the stringent criteria required for publication in the journal.
Ian Baxendale is a Professor in the Department of Chemistry, University of Durham, UK. He works on the design and implementation of new technologies to enable complex chemical syntheses, including flow synthesis, automated methodologies, microwave reactors and immobilised reagents and scavengers. Take a look at his recent paper in Organic & Biomolecular Chemistry:
Flow synthesis of ethyl isocyanoacetate enabling the telescoped synthesis of 1,2,4-triazoles and pyrrolo-[1,2-c]pyrimidines, Marcus Baumann, Antonio M. Rodriguez Garcia and Ian R. Baxendale, Org. Biomol. Chem., 2015, 13, 4231–4239.
Ian previously co-founded the Innovative Technology Centre, Cambridge and spin out company Reaxa Ltd with Prof. Steven Ley. He gives teaching lectures and runs lab training for industrial and academic researchers to learn more about his methods, as well as acting as a scientific consultant to a number of companies.
To keep up with the news from Reaction Chemistry & Engineering, including the latest Editorial Board appointments, be sure to sign up to our e-alerts and follow us on Twitter. Submit your work here.