On October 17-20, 2019, a Symposium on Supramolecular Chemistry in Celebration of Prof. Julius Rebek Jr.'s 75th birthday was held at the University of Shanghai, hosted by Prof. Yang Yu. More than 30 alumni of Professor Rebek presented their research, covering an enormous spread of research inspired by their academic teacher Julius Rebek from supramolecular chemistry to catalysis, biological chemistry up to materials science. At this event a printed version of a themed collection of Organic Chemistry Frontiers dedicated to Professor Julius Rebek on the occassion of his 75th birthday in April 2019 was given to Prof. Rebek by the two guest editors, Pablo Ballester and Frank Würthner (see picture below).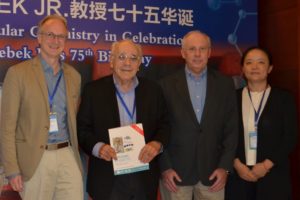 From left to right: Prof. Frank Würthner, Associate Editor of OCF; Prof. Julius Rebek, Jr. with the special issue dedicated to him; Prof. Pablo Ballester, Guest Editor of the special issue; Prof. Yang Yu, Organizer of the Symposium at Shanghai University
Read the articles in the themed collection in celebration of the 75th birthday of Professor Julius Rebek, Jr.