Welcome to issue 13 of Organic Chemistry Frontiers for 2019 ! The latest OrgChemFront issue is published online now.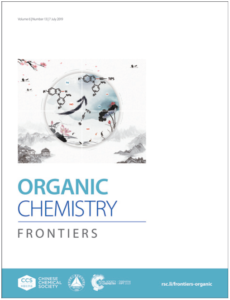 The front cover story, Palladium–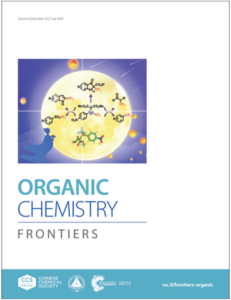 catalyzed regioselective C–H alkynylation of indoles with bromoalkynes in water by Wanqing Wu and co-authors. The inside cover features a story on Trifluoromethyl-substituted selenium ylide: a broadly applicable electrophilic trifluoromethylating reagent by Hangming Ge and Qilong Shen .
Follow review type articles are included in current issue:
Developments towards synthesis of N-heterocycles from amidines via C–N/C–C bond formation
Wei Guo, Mingming Zhao, Wen Tan, Lvyin Zheng, Kailiang Tao and Xiaolin Fan
Org. Chem. Front., 2019,6, 2120-2141
https://doi.org/10.1039/C9QO00283A
Recent synthetic applications of α-amido sulfones as precursors of N-acylimino derivatives
Enrico Marcantoni, Alessandro Palmieri and Marino Petrini
Org. Chem. Front., 2019,6, 2142-2182
https://doi.org/10.1039/C9QO00196D
Metal-catalyzed radical-type transformation of unactivated alkyl halides with C–C bond formation
under photoinduced conditions
Shengqing Ye, Tianyi Xiang, Xiaofang Li and Jie Wu
Org. Chem. Front., 2019,6, 2183-2199
https://doi.org/10.1039/C9QO00272C