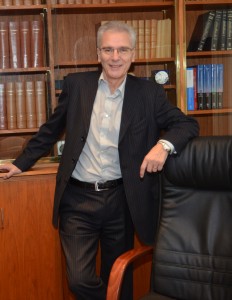 We are pleased to present an online themed collection dedicated to Professor Max Malacria in celebration of his 65th birthday.
As a tribute to his renowned scientific career, this themed collection brought together over 40 colleagues and students of Max's.  We thank all the authors and Guest Editors Louis Fensterbank and Corinne Aubert, for their generous contribution to this successful collection.
Papers in this collection are free to access till end of 2015.

Editorial
Editorial: Max Malacria 65th birthday special issue
Louis Fensterbank and Corinne Aubert
DOI: 10.1039/C4QO90034K, Editorial
Highlights
Pyridine synthesis by [4 + 2] cycloadditions of 1-azadienes: hetero-Diels Alder and transition metal-catalysed approaches
Jamie M. Neely and Tomislav Rovis
DOI: 10.1039/C4QO00187G
Chopping unfunctionalized carbon–carbon bonds: a new paradigm for the synthesis of organonitriles
Philippe Bisseret, Guillaume Duret and Nicolas Blanchard
DOI: 10.1039/C4QO00158C
Tutorial Account
A convenient, economical and scalable multi-gram synthesis of 1-vinylcyclopropyl 4-methylbenzenesulfonate
O. Stephen Ojo, Phillip A. Inglesby, Daniela E. Negru and P. Andrew Evans
DOI: 10.1039/C4QO00089G
Research Articles
Function through bio-inspired, synthesis-informed design: step-economical syntheses of designed kinase inhibitors
Paul A. Wender, Alison D. Axtman, Jennifer E. Golden, Jung-Min Kee, Lauren E. Sirois, Ryan V. Quiroz and Matthew C. Stevens
DOI: 10.1039/C4QO00228H
Reductive decyanation of malononitriles and cyanoacetates using photoactivated neutral organic super-electron-donors
Eswararao Doni and John A. Murphy
DOI: 10.1039/C4QO00202D
Near-infrared absorbing heterocyclic quinoid donors for organic solar cell devices
Emel Ay, Shunsuke Furukawa and Eiichi Nakamura
DOI: 10.1039/C4QO00182F
Stereospecific synthesis of highly functionalized benzo[3.1.0]bicycloalkanes via multistep cascade reactions
Jian-Bo Zhu, Hao Chen, Lijia Wang and Yong Tang
DOI: 10.1039/C4QO00134F
The kinetics of alkyl radical ring closures at selenium: formation of selenane
Amber N. Hancock, Yvonne Kavanagh and Carl H. Schiesser
DOI: 10.1039/C4QO00108G
Ru(II)-catalyzed rearrangement of the allenic sulfide bearing propargyl moiety: efficient formation of benzene derivatives
Lingling Peng, Xiu Zhang, Jie Ma and Jianbo Wang
DOI: 10.1039/C4QO00001C
Enantioselective Pd-catalyzed tandem allylic alkylation reaction using monodentate phosphoramidite ligands for the formal total synthesis of huperzine A
Chi-Feng Lin, Chih-Wei Chien and Iwao Ojima
DOI: 10.1039/C4QO00180J
Synthesis of 1,4-benzodiazepinones and 1,4-benzoxazepinones via palladium-catalyzed amino and oxyacetoxylation
A. D. Manick, G. Duret, D. N. Tran, F. Berhal and G. Prestat
DOI: 10.1039/C4QO00179F
Copper-mediated efficient three-component synthesis of 1,2,4-triazoles from amines and nitriles
Jinqiang Kuang, Bo Chen and Shengming Ma
DOI: 10.1039/C4QO00007B
Enantioselective allylic amination of MBH carbonates catalyzed by novel chiral 4-dialkylaminopyridine catalysts
Gaoyuan Ma and Mukund P. Sibi
DOI: 10.1039/C4QO00210E
Glycosylation with N-acetyl glycosamine donors using catalytic iron(III) triflate: from microwave batch chemistry to a scalable continuous-flow process
Amandine Xolin, Arnaud Stévenin, Mathieu Pucheault, Stéphanie Norsikian, François-Didier Boyer and Jean-Marie Beau
DOI: 10.1039/C4QO00183D
Enyne [4 + 4] photocycloaddition with polycyclic aromatics
Buddha B. Khatri, Svitlana Kulyk and Scott McN. Sieburth
DOI: 10.1039/C4QO00190G
N-heterocyclic carbene catalysed oxidative esterification of aliphatic aldehydes
Ramesh C. Samanta and Armido Studer
DOI: 10.1039/C4QO00164H
Stereocontrolled synthesis of propionate motifs from L-lactic and L-alanine aldehydes. A DFT study of the hydrogen transfer under endocyclic control
François Godin, Martin Duplessis, Cindy Buonomano, Thao Trinh, Karine Houde, Daniel Chapdelaine, Jacques Rodrigue, André Boutros and Yvan Guindon
DOI: 10.1039/C4QO00142G
Bi(OTf)3-catalysed synthesis of substituted indanes by a double hydroarylation of unactivated 1,3-dienes
Bastien Cacciuttolo, Pierrick Ondet, Sophie Poulain-Martini, Gilles Lemière and Elisabet Duñach
DOI: 10.1039/C4QO00149D
Radical vinylation of dioxolanes and N-acylpyrrolidines using vinyl bromides
Takashi Kippo, Yuki Kimura, Ayami Maeda, Hiroshi Matsubara, Takahide Fukuyama and Ilhyong Ryu
DOI: 10.1039/C4QO00138A
Intermolecular reactions of gold(I)-carbenes with furans by related mechanisms
David Lebœuf, Morgane Gaydou, Yahui Wang and Antonio M. Echavarren
DOI: 10.1039/C4QO00130C
Metal-free aerobic C–H oxidation of cyclic enones
P. A. Peixoto, M. Cormier, J. Ekosso Epane, A. Jean, J. Maddaluno and M. De Paolis
DOI: 10.1039/C4QO00125G
Cyclodextrin-adamantane conjugates, self-inclusion and aggregation versus supramolecular polymer formation
Diem Ngan Tran, Dmitri Colesnic, Ségolène Adam de Beaumais, Gaëlle Pembouong, François Portier, Álvaro Antelo Queijo, José Vázquez Tato, Yongmin Zhang, Mickaël Ménand, Laurent Bouteiller and Matthieu Sollogoub
DOI: 10.1039/C4QO00104D
A problem solving approach for the diastereoselective synthesis of (5′S)- and (5′R)-5′,8-cyclopurine lesions
Chryssostomos Chatgilialoglu, Carla Ferreri, Annalisa Masi, Anna Sansone, Michael A. Terzidis and Michail Tsakos
DOI: 10.1039/C4QO00133H
Polythiophene synthesis via halogen dance
Keisuke Shono, Yugo Sumino, Shota Tanaka, Shunsuke Tamba and Atsunori Mori
DOI: 10.1039/C4QO00109E
Addition of carbon nucleophiles to hemiaminals promoted by a Lewis acidic polyoxotungstate
Wen-Jing Xuan, Candice Botuha, Bernold Hasenknopf and Serge Thorimbert
DOI: 10.1039/C4QO00193A
Cationic gold(I)-catalyzed enantioselective hydroalkylation of unactivated alkenes: influence of the chloride scavenger on the stereoselectivity
Weizhen Fang, Marc Presset, Amandine Guérinot, Christophe Bour, Sophie Bezzenine-Lafollée and Vincent Gandon
DOI: 10.1039/C4QO00112E
Iridium(III) dipyridylamine complexes: synthesis, characterization and catalytic activities in photoredox reactions
Elodie Sauvageot, Ronan Marion, Fabien Sguerra, Adèle Grimault, Richard Daniellou, Matthieu Hamel, Sylvain Gaillard and Jean-Luc Renaud
DOI: 10.1039/C4QO00059E
Visible-light photocatalytic oxidation of 1,3-dicarbonyl compounds and carbon–carbon bond formation
Marion Daniel, Louis Fensterbank, Jean-Philippe Goddard and Cyril Ollivier
DOI: 10.1039/C4QO00071D
Synthesis and characterization of spin-labelled [2]rotaxanes containing tetrathiafulvalene and 1,5-dioxynaphthalene molecular stations
Roberta Manoni, Francesco Romano, Costanza Casati, Paola Franchi, Elisabetta Mezzina and Marco Lucarini
DOI: 10.1039/C4QO00065J
Development of sustainable fluorous chemistry: the synthesis and characterization of fluorous ethers with nonafluoro-tert-butoxy groups
See-Wing Lo, Edwin Law, Matthew Y. Lui, Xi-Guang Wei, Kai-Chung Lau, Chui Y. Ma, Margaret B. Murphy and István T. Horváth
DOI: 10.1039/C4QO00192C, Research Article
---
*Free access is available to all institutions/organisations with registered IP addresses, and to RSC Publishing Personal Account holders. Not a customer? Register here.