Emerging Investigator: Gengtao Fu
Position          Professor

Postdoc          2019–2021  The University of Texas at Austin (USA)

                       2017–2019  Nanyang Technological University (Singapore)

Education       2014–2017  Nanjing Normal University                  Ph.D.

                       2011–2014  Nanjing Normal University                  M.Sc.
Read Gengtao Fu's Emerging Investigator Series article in Materials Chemistry Frontiers and learn more about him.
| | | |
| --- | --- | --- |
|   |   |   |
|   | Universal synthesis of rare earth-doped FeP nanorod arrays for the hydrogen evolution reaction |   |
| | | |
| | A universal plasma-assisted strategy is proposed for the fabrication of rare earth-doped FeP as a kind of potential electrocatalyst for the hydrogen evolution reaction. | |
| | | |
|   | From the themed collection: Frontiers Emerging Investigator Series |   |
|   | The article was first published on 06 Jul 2023 |   |
|   | Mater. Chem. Front., 2023, 7, 4132-4141 |   |
|   | https://doi.org/10.1039/D3QM00516J |   |
|   |   |   |
My research interests
Key words:
energy storage and conversion, electrocatalysis, rare-earth functional materials, catalytic mechanism
My research interests focus on the rational design and the synthesis of advanced rare-earth functional materials for electrocatalysis, electrochemical energy storage, and conversion. Particularly, I have made great efforts in solving the difficult doping of rare earth elements uniformly in transition metals, ambiguous catalytic mechanisms, and undefined structure-activity relationships, to gradually realize the industrialization and marketization of rare-earth-doped transition metal electrocatalysts in energy conversion devices, such as fuel cells and rechargeable batteries.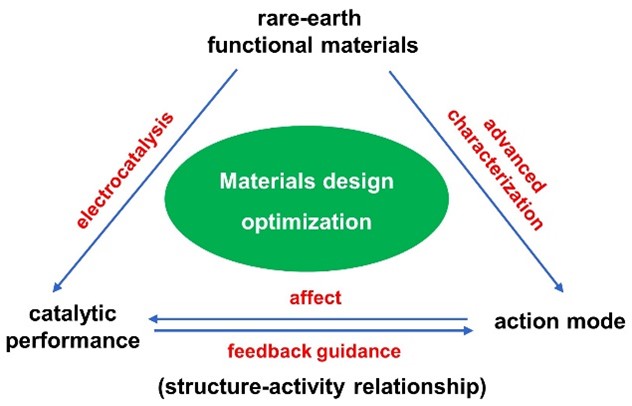 10 Facts about me
I published my first academic article on the synthesis and catalytic properties of porous palladium nanospheres in Journal of Materials Chemistry in 2012. 
An accomplishment I'm particularly proud of is the pioneering work on identifying the active sites of rare-earth-based transition metal oxides towards electrocatalytic oxygen evolution, published in Advanced Materials, 2023.
The person who has had the greatest influence on my research career is my postdoctoral supervisor Prof. John B. Goodenough at The University of Texas at Austin.
I always feel lucky that my Ph.D. and M.S. advisors directed me to the cutting-edge research fields.
I received the first funding from the National Natural Science Foundation of China in 2021.
Good work depends not only on good ideas and results but also on great writing and logic skills.
I advise my students to develop abilities including diligence, strong will, and thinking independently, which are crucial to success in their beginning research career.
A recent epiphany: where there is a will there is a way.
It is my favorite time when I travel with my wife and lovely son.