Emerging Investigator: Jintao Zhang
Position         Professor

Postdoc         2013–2015  Case Western Reserve University (USA)

                      2012–2013  Nanyang Technological University (Singapore)

Education      2008–2012  University of Singapore                      Ph.D.

ORCID          0000-0002-1029-3404
Read Jintao Zhang's Emerging Investigator Series article in Materials Chemistry Frontiers and learn more about him.
| | | |
| --- | --- | --- |
|   |   |   |
|   | Hollow CoOX nanoparticle-embedded N-doped porous carbon as an efficient oxygen electrocatalyst for rechargeable zinc–air batteries |   |
| | | |
| | The porous carbon embedded with hollow cobalt oxide nanoparticles was prepared via a spray-drying method followed by carbonization, which endows rechargeable zinc–air batteries with the improved bifunctional catalytic activity. | |
| | | |
|   | From the themed collection: Frontiers Emerging Investigator Series |   |
|   | The article was first published on 24 Oct 2022 |   |
|   | Mater. Chem. Front., 2022, Advance Article |   |
|   | https://doi.org/10.1039/D2QM00858K |   |
|   |   |   |
My research interests
Key words:
interface electrochemistry, electrocatalysis, energy conversion and storage
My research interests include the rational design and the synthesis of advanced electrode materials for electrocatalysis, electrochemical energy storage and conversion. Typically, with the fundamental understanding of interface electrochemical reactions in combination with in situ electrochemical methods, model electrode materials are rationally designed for advanced electrocatalysis and energy storage devices, such as carbon dioxide reduction reaction, oxygen reduction and iodine oxidation reactions for advanced rechargeable batteries.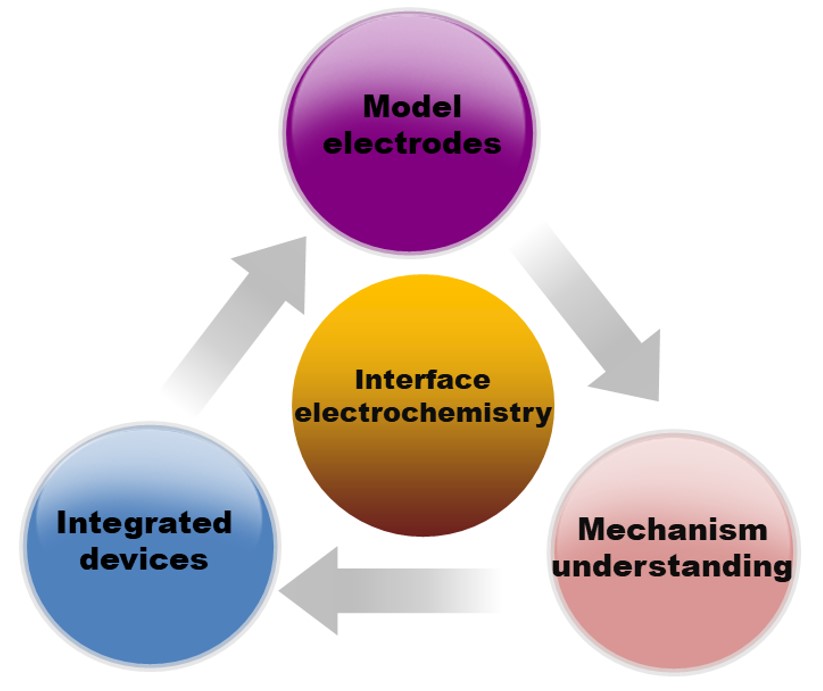 10 Facts about me
I chose my current career path because I enjoy challenging work and want to make novel discoveries.  
I published my first academic article on the understanding of electrocatalytic oxidation of methanol for fuel cells in Electrochemical Communications in 2006.
An accomplishment I'm particularly proud of is the pioneering work on the bifunctional electrocatalysis for Zn–air battery, published in Nature Nanotechnology, 2015.
A recent epiphany: opportunities are for those who are prepared.
The most important thing I learned from my students is to respect individual differences, to teach students according to their aptitude, and to learn from each other.
I always feel lucky that I've been able to do research that keeps me thinking.
I am most passionate about my work in the interface electrochemistry that would evoke the fundamental rules for advanced energy conversion and storage.
I would like to share some of my experiences after starting an independent career: one should believe in oneself and encourage oneself to solve problems.
My most important role model is my advisor Liming Dai during my postdoc studies, who has a real passion and drive for research. I learned a lot from him.
The country that I would like to go abroad to visit again is Singapore, where I have learned professional knowledge and harvested many wonderful memories.