Emerging Investigator: Xiao-Yu Hu
Read Xiao-Yu Hu's Emerging Investigator Series article on Materials Chemistry Frontiers and learn more about her.
| | | |
| --- | --- | --- |
|   |   |   |
|   | A novel supramolecular self-assembling hybrid system for visible-light-driven overall water splitting |   |
| | Minzan Zuo, Weirui Qian, Kaiya Wang, Leyong Wang and Xiao-Yu Hu* | |
| | A hybrid supramolecular system containing redox compartments has been successfully developed for visible-light-driven overall water splitting in the ambient environment. | |
| | | |
|   | From the themed collection: Frontiers Emerging Investigator Series |   |
|   | The article was first published on 19 Aug 2022 |   |
|   | Mater. Chem. Front., 2022, 6, 2790-2795 |   |
|   | https://doi.org/10.1039/D2QM00629D |   |
|   |   |   |
My research interests
Key words:
supramolecular chemistry, supramolecular self-assembly, functional supramolecular materials
My research area is supramolecular organic chemistry, and my current research interests are focused on supramolecular self-assembly and the fabrication of functional supramolecular materials. The main research directions of my group include the following three aspects: (1) orthogonal supramolecular assembly and its functionalization; (2) dynamic supramolecular multifunctional nanosystems for drug/gene delivery; and (3) supramolecular artificial light-harvesting systems and functionalization. Our research work is based on molecular design and synthesis, by means of molecular recognition and controllable supramolecular assembly. Guided by the construction of organic functional materials, our research aims to realize the controllable construction of a series of novel "smart" organic supramolecular assemblies and their functional regulation.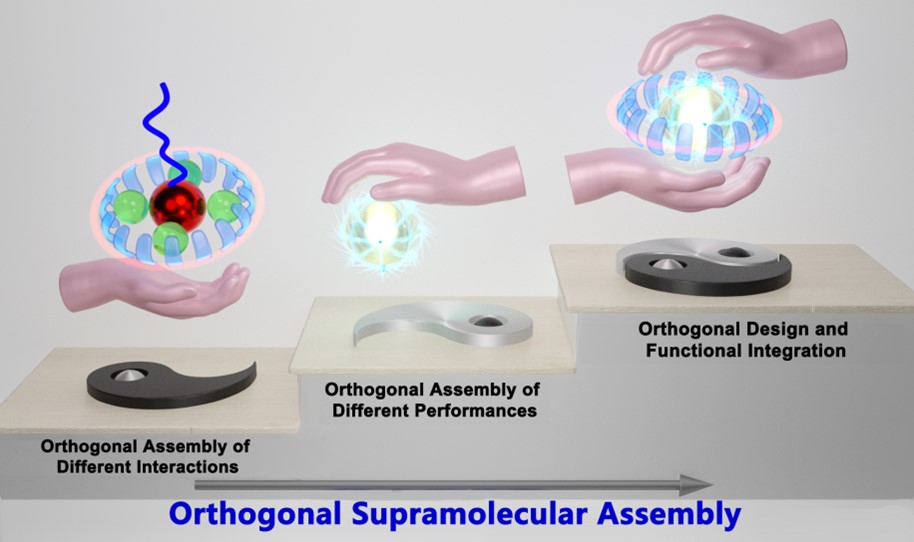 10 Facts about me
I published my first academic article in 2007 during my master's degree. This article demonstrates a very interesting research work on the chemical constituents and structural derivation of the medicinal plant Nouelia insignis Franch., and I am still very impressed.
An accomplishment I'm particularly proud of is a series of drug delivery systems fabricated by macrocycle-based supramolecular interactions.
I am most passionate about my work in design of interesting supramolecular structures from molecular scale to nanoscale because these fantastic structures always exhibit unexpected properties and functions.  
My favourite book is A Dream of Red Mansions. The book made me sometimes happy, sometimes sad, sometimes angry, and sometimes full of emotion. And it also made me think a lot: maybe everything is imperfect, and so are people.
One of my hidden talents is painting. Painting is very fascinating—you can control the brush and draw any picture you can imagine.
The people who have had the greatest influence on my research career are my postdoctoral supervisor Prof. Leyong Wang (Nanjing University) and my Humboldt supervisor Prof. Carsten Schmuck (University of Duisburg-Essen).
The first very memorable challenge in my research career was taking my 5-year-old son alone to the University of Duisburg-Essen to conduct Humboldt research. The difficult adaptation period faced by my son in a German school and the change in my research topic made me very tormented for a while. However, with the help of Prof. Carsten Schmuck, with the warm care of my son's teachers and the support of many friends, the 2 years I spent in Essen with my son became my fondest memories.
I have the highest respect for Prof. Carsten Schmuck who always takes science very seriously, who provides a very good research atmosphere for all the colleagues and students, and who pays special attention to the development of the next generation of scientists. Although Prof. Carsten Schmuck unexpectedly passed away in 2019, his scientific spirit will forever influence and inspire me.
The most challenging work in my research is to narrow the gap between laboratory research and real-world applications.
I would like to share some of my experiences after starting an independent career: you should not be afraid to ask questions, as it is a very important opportunity to learn quickly and improve noticeably.