Materials Chemistry Frontiers is delighted to welcome Dr Emilie Ringe of University of Cambridge to the Editorial Board of the journal!
| | |
| --- | --- |
| Emilie Ringe earned her Ph.D. in chemistry and materials science from Northwestern University in 2012. She became the Gott Research Fellow at Trinity Hall as well as a Newton International Research Fellow (Royal Society) in the Electron Microscopy group in the Materials Science and Metallurgy Department at the University of Cambridge, UK. In 2014, she was hired as an assistant professor at Rice University, where she established the Electron Microscopy Center and her research in Earth-abundant and multi metallic plasmonic nanoparticles. In 2018, she moved the University of Cambridge as a lecturer, where she received an ERC Starting grant (1.6M Euros) to pursue her studies of Earth-abundant plasmonics. She has been elected fellow of Gonville & Caius College, and is an associate member of the Royal Society of Chemistry. | |
Her research focuses on multi-scale, multi-dimensional imaging of natural and synthetic materials. Dr Ringe uses correlative, multi-scale approaches, based mainly on electron and light microscopy, to understand how nano- and atomic-scale features affect the bulk optical and electronic properties of crystals.
Check some of her recent publications at the Royal Society of Chemistry:
Small morphology variations effects on plasmonic nanoparticle dimer hotspots
Yu Huang, Yun Chen, Ling-Ling Wang and Emilie Ringe
J. Mater. Chem. C, 2018,6, 9607-9614
http://dx.doi.org/10.1039/C8TC03556C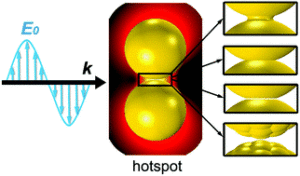 Enhanced control of plasmonic properties of silver–gold hollow nanoparticles via a reduction-assisted galvanic replacement approach
Josée R. Daniel, Lauren A. McCarthy, Emilie Ringe and Denis Boudreau
RSC Adv., 2019,9, 389-396
http://dx.doi.org/10.1039/C8RA09364D