We are delighted to announce an exciting and high profile the themed collection to be published in 2017 from Materials Chemistry Frontiers.
Next-Generation Organic/Hybrid Photovoltaics
Deadline for submissions: 30 September 2016
Guest editors Tobin Marks (Northwestern University) and Henry Yan (Hong Kong University of Science and Technology) welcome original research and critical reviews on the science and fabrication techniques of materials and devices that are paving the road towards high-efficient solar energy harvesting.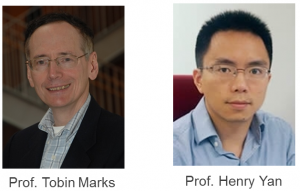 Key topics include but are not limited to:
Organic photovoltaics

Perovskite solar sells

Non-fullerene organic photovoltaics

Charge transport layers for perovskite solar sells

Interface engineering for organic/hybrid photovoltaics
Every submission to this themed issue must meet the high standard of the journal via rigorous peer-review.  Accepted articles will be published and included into recent journal issues without delay to permit the timely dissemination of the work. Meanwhile, all contributions to this special topic are being assembled and presented as a web-based thematic issue on the journal webpage, in accompany with active promotions to ensure the widest possible impact of reported research.
---

New journal: Materials Chemistry Frontiers – The international, high quality journal for topical and multi-disciplinary research on all aspect of materials chemistry.
Editor-in-Chief Ben Zhong Tang answers your questions about Materials Chemistry Frontiers.