We are delighted to announce that Professor Paula Diaconescu (University of California, Los Angeles, USA) has joined Inorganic Chemistry Frontiers as Associate Editor handling the peer-review of submissions to the journal.
Biography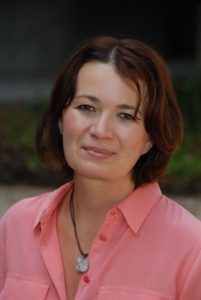 Paula Diaconescu joined the Chemistry & Biochemistry Department of University of California, Los Angeles, in 2005, after spending two years as a postdoctoral fellow in the group of Professor Robert Grubbs at the California Institute of Technology. She obtained her PhD degree under the supervision of Professor Christopher Cummins at Massachusetts Institute of Technology, working on arene-bridged complexes of uranium. Her earlier education was completed in Romania, where she obtained her BS from the University of Bucharest and worked on coordination complexes of transition metals and lanthanides at the University Politehnica of Bucharest. Besides awards received from UCLA, she received an Alfred P. Sloan Fellowship (2009), a Friedrich Wilhelm Bessel Research Award from the Alexander von Humboldt Foundation (2014), and a Guggenheim Fellowship (2015).
ORCID: 0000-0003-2732-4155
Research Highlights
The Diaconescu research group is interested in various aspects of metal-ligand cooperation as stem from using ferrocene-based supporting ligands with applications ranging from small molecule activation to the formation of biodegradable polymers. Specific focuses of the group are redox switchable catalysis and biodegradable polymer synthesis.
Check some of her publications at Royal Society of Chemistry:
Zirconium complexes supported by a ferrocene-based ligand as redox switches for hydroamination reactions
Yi Shen, Scott M. Shepard, Christopher J. Reed and Paula L. Diaconescu
Chem. Commun., 2019, 55, 5587-5590
Preparation of multiblock copolymers via step-wise addition of L-lactide and trimethylene carbonate
Mark Abubekerov, Junnian Wei, Kevin R. Swartz, Zhixin Xie, Qibing Pei and Paula L. Diaconescu
Chem. Sci., 2018,9, 2168-2178
Investigation of redox switchable titanium and zirconium catalysts for the ring opening polymerization of cyclic esters and epoxides
Miranda Y. Lowe, Sisheng Shu, Stephanie M. Quan and Paula L. Diaconescu
Inorg. Chem. Front., 2017,4, 1798-1805