The latest InorgChemFront issue is published online.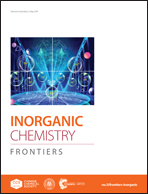 The front cover story, Two metal–organic zeolites for highly sensitive and selective sensing of Tb3+  is contributed by Meiling Li, Guojian Ren, Fuxiang Wang, Zhimeng Li, Weiting Yang, Dongxu Gu, Yinghui Wang, Guangshan Zhu and Qinhe Pan.
The inside cover features a story on Base induced C–CN bond cleavage at room temperature: a convenient method for the activation of acetonitrile by Xiaofeng Zhang, Zilong Zhang, Shiqun Xiang, Yingzu Zhu, Changneng Chen and Deguang Huang.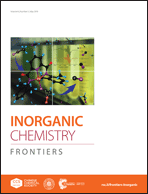 Following review article is included in current issue:
Recent insights into near-infrared light-responsive carbon dots for bioimaging and cancer phototherapy
Bo Zhou, Zhengxi Guo, Zhaoxing Lin, Lizheng Zhang, Bang-Ping Jiang and Xing-Can Shen
Inorg. Chem. Front., 2019,6, 1116-1128
https://doi.org/10.1039/C9QI00201D