The latest InorgChemFront issue is published online.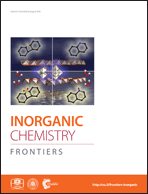 The front cover story,  Efficient concurrent removal of sulfur and nitrogen contents from complex oil mixtures by using polyoxometalate-based composite materials is contributed by Zhixiao Yao, Haralampos N. Miras and Yu-Fei Song.
The inside cover this month features an article on A paper-based lanthanide smart device for acid–base vapour detection, anti-counterfeiting and logic operations by Xiang Li, Hao Chen, Alexander M. Kirillov, Yujie Xie, Changfu Shan, Bingkai Wang, Chunling Shi and Yu Tang.
Following review articles and highlight are also included in the current issue:
2p–3d–4f hetero-tri-spin molecule-based magnetic compounds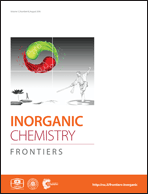 Mei Zhu, Licun Li and Jean-Pascal Sutter
Inorg. Chem. Front., 2016, 3, 994-1003
DOI: 10.1039/C6QI00075D
New way to multi-shelled hollow spheres for robust battery electrode
Hong Jin Fan
Inorg. Chem. Front., 2016, 3, 1004-1006
DOI: 10.1039/C6QI00135A