Reviews and highlights in Inorganic Chemistry Frontiers focus on the significant and timely topics from across the field. Those 2015 articles are now free to access until the end of February 2016.
If you have not yet read the high impact reviews from Inorganic Chemistry Frontiers, now it is your chance!
Check out the full collection at http://rsc.li/icfrev15.
Magnetic clusters based on octacyanidometallates
Dawid Pinkowicz, Robert Podgajny, Beata Nowicka, Szymon Chorazy, Mateusz Reczyński and Barbara Sieklucka

Inorg. Chem. Front., 2015,2, 10-27
DOI: 10.1039/C4QI00189C
---
Sorption of radionuclides from aqueous systems onto graphene oxide-based materials: a review
Shujun Yu, Xiangxue Wang, Xiaoli Tan and Xiangke Wang

Inorg. Chem. Front., 2015,2, 593-612
DOI: 10.1039/C4QI00221K
---
CO2 and ambient air in metal–oxygen batteries: steps towards reality

Shaomao Xu, Sampson Lau and Lynden A. Archer
Inorg. Chem. Front., 2015,2, 1070-1079
DOI: 10.1039/C5QI00169B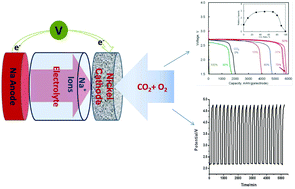 ---
Crystal facet tailoring arts in perovskite oxides
Keke Huang, Long Yuan and Shouhua Feng
Inorg. Chem. Front., 2015,2, 965-981
DOI: 10.1039/C5QI00168D
---
Organic–inorganic halide perovskite based solar cells – revolutionary progress in photovoltaics

Xiangye Liu, Wei Zhao, Houlei Cui, Yi'an Xie, Yaoming Wang, Tao Xu and Fuqiang Huang
Inorg. Chem. Front., 2015,2, 315-335
DOI: 10.1039/C4QI00163J

Read more 2015 Review articles, please visit http://rsc.li/icfrev15.