The latest Inorg ChemFront issue is published online.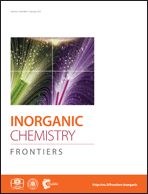 The cover story, Reagent concentration dependent variations in the stability and photoluminescence of silica-coated ZnO nanorods is contributed by Y. Yin, Y. Sun, M. Yu, X. Liu, B. Yang, D. Liu, S. Liu, W. Cao and M. N. R. Ashfold.
Following review article is included in the current issue:
Magnetic clusters based on octacyanidometallates
Dawid Pinkowicz, Robert Podgajny, Beata Nowicka, Szymon Chorazy, Mateusz Reczyński and Barbara Sieklucka
Inorg. Chem. Front., 2015, 2, 10-27
DOI: 10.1039/C4QI00189C
---
Publish with Inorganic Chemistry Frontiers, benefit from rapid publication, free journal cover and free access to 2014 & 2015 content!