The 4th International Conference on Metal-Organic Frameworks and Open Framework Compounds (MOF2014) will take place from 28 September to 01 October 2014 in Kobe, Japan. This conference aims to address all questions concerning metal-organic frameworks, metal coordination compounds, and related materials, and will cover all aspects of MOFs from synthesis and characterization of new materials over properties of MOFs to all manner of applications.
MOF2014 will highlight three key areas: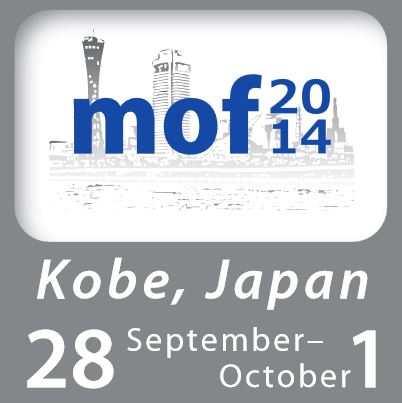 Fundamental Study and Discovery of MOFs

:
new structures and fabrication, unusual phenomena in pores/channels

Functions, Applications, and Commercialization of MOFs

:
storage, separation, catalysis, sensing, conductivity, bio-inspired functions

Hybridization of MOFs and Organic Networks

:
including Covalent Organic Frameworks (COF) and Molecular Cage-Type Compounds
Inorganic Chemistry Frontiers is also attending this conference as a sponsor to celebrate the recent important developments in MOFs and related interdisciplinary research areas.
To read more about this exciting conference and to REGISTOR, please visit the WEBSITE!