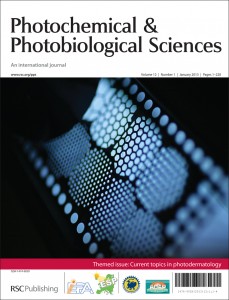 We are delighted to announce that PPS has received its highest ever impact factor* of 2.9!
This achievement would not have been possible without the contribution of all our authors, referees, readers and Board members: thank you, we are very grateful for your support.
PPS continues to publish the latest developments in photochemistry and photobiology and encourages a synergism between these two important research areas.
We invite you to submit your latest research to PPS
Keep up-to-date with the latest content in Photochemical & Photobiological Sciences by registering for our free table of contents alerts.
Read more about the 2012 Impact Factors on the RSC Publishing Blog.
*The Impact Factor provides an indication of the average number of citations per paper. Produced annually, Impact Factors are calculated by dividing the number of citations in a year by the number of citeable articles published in the preceding two years. Data based on 2012 Journal Citation Reports®, (Thomson Reuters, 2013).