Issue 2 of Photochemical & Photobiological Sciences is now available to read online.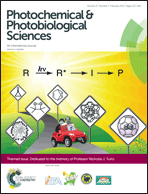 Dedicated to the memory of Nicholas J. Turro, late Professor of Chemistry at Columbia University, this issue presents a collection of articles from scientists either directly or indirectly associated with his laboratory. The collection reflects both the geographic diversity and breadth of scientific interests of those connected with Professor Turro .
The issue was guest edited by Frederick D. Lewis, V. Ramamurthy, Yoshihisa Inoue, and Jochen Mattay.
Read about Professor Turro's legacy in the editorial:
The Turro legacy
Photochem. Photobiol. Sci., 2014, 13, 138-140
DOI: 10.1039/C4PP00008K