Issue 12 of Photochemical & Photobiological Sciences is now available to read online.
The front cover this month features work by Claire Richard and co-authors from Clermont-Ferrand, France. In their work they investigate the photolysis of cycloxydim (CD) in acetonitrile and water, and show that the intramolecular hydrogen bond in cycloxydim suppresses the photoisomerization and increases the reactivity through H abstraction of the iminyl radical.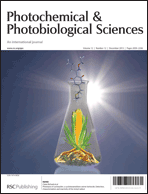 Read the article in full – it's free to access for the next six weeks:
Photolysis of cycloxydim, a cyclohexanedione oxime herbicide. Detection, characterization and reactivity of the iminyl radical
Shirin Monadjemi, Pascal de Sainte-Claire, Isabelle Abrunhosa-Thomas and Claire Richard  
Photochem. Photobiol. Sci., 2013, 12, 2067-2075, DOI: 10.1039/C3PP50209K
Keep up-to-date with the latest content in Photochemical & Photobiological Sciences by registering for our free table of contents alerts.