Issue 10 of Photochemical & Photobiological Sciences is now available to read online.
The front cover this month features work by Thomas Vaid and co-workers from Alabama, USA. In their work they scrutinize the electronic structure and photophysical properties of (C=C)TTP2+ (TTP = tetra-p-tolylporphyrin) using quantum mechanical calculations and transient absorption spectroscopic measurements.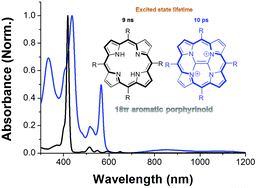 Read the article in full – it's free to access for the next six weeks:
Electronic structure and photophysics of (CC)tetra-p-tolylporphyrin2+
Young Mo Sung, Monica Vasiliu, David A. Dixon, Marco Bonizzoni, Dongho Kim and Thomas P. Vaid  
Photochem. Photobiol. Sci., 2013, Advance Article, DOI: 10.1039/C3PP50155H
Keep up-to-date with the latest content in Photochemical & Photobiological Sciences by registering for our free table of contents alerts.