Halide perovskite optoelectronics
Guest edited by Lakshminarayana Polavarapu, Maria Antonietta Loi, Haibo Zeng and Joseph M. Luther
Over the past decade, metal halide perovskites, both in the form of thin films and colloidal nanocrystals, have emerged as a leading candidate for optoelectronic applications because of their exciting properties including defect tolerance, long charge carrier diffusion lengths, high photoluminescence quantum yield, and facile fabrication using relatively low-cost precursors. We have witnessed a steep increase in the efficiency of perovskite optoelectronic devices and now Nanoscale is delighted to introduce a new online collection covering the latest developments that address the challenges of halide perovskite optoelectronics.
You can explore the collection and read the introductory editorial from our guest editors below, with all articles free to access until the end of November 2023.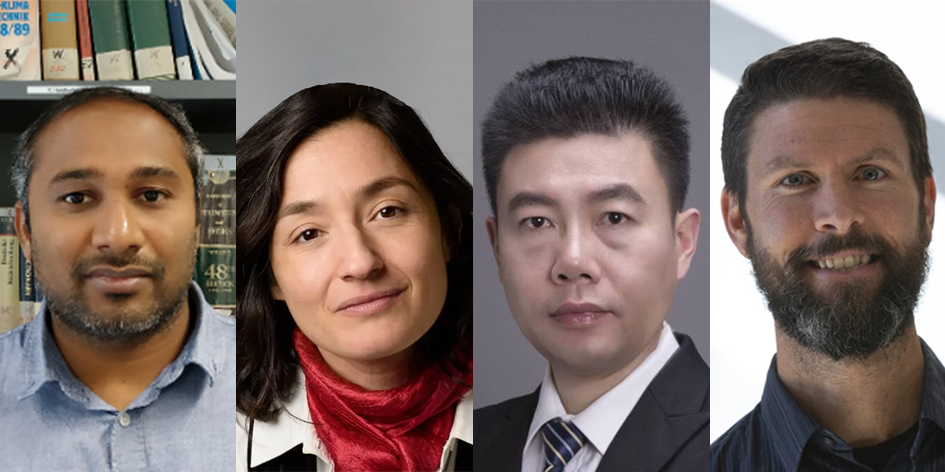 Dr Lakshminarayana Polavarapu (University of Vigo, Spain), Professor Maria Antonietta Loi (University of Groningen, Netherlands), Professor Haibo Zeng (Nanjing University, China) and Dr ‪Joseph M. Luther (National Renewable Energy Laboratory, USA) served as guest editors for this collection and highlight the importance of perovskite materials in optoelectronics in their introductory editorial.
Read some of the featured articles below.
Generating spin-triplet states at the bulk perovskite/organic interface for photon upconversion
Colette M. Sullivan and Lea Nienhaus
Nanoscale, 2023, DOI: 10.1039/D2NR05767K
Recent progress in layered metal halide perovskites for solar cells, photodetectors, and field-effect transistors
Chwen-Haw Liao, Md Arafat Mahmud and Anita W. Y. Ho-Baillie
Nanoscale, 2023, DOI: 10.1039/D2NR06496K
Atomic layer deposition of SnO2 using hydrogen peroxide improves the efficiency and stability of perovskite solar cells
Sang-Uk Lee, Hyoungmin Park, Hyunjung Shin and Nam-Gyu Park
Nanoscale, 2023, DOI: 10.1039/D2NR06884B
Transforming exciton dynamics in perovskite nanocrystal through Mn doping
Soumen Mukherjee, Swarnali Ghosh, Dibyendu Biswas, Mainak Ghosal, Kheyali De and Prasun K. Mandal
Nanoscale, 2023, DOI: 10.1039/D3NR00241A
Nanoscale is always interested in considering high-quality articles on perovskite materials and devices and we would be delighted if you would consider the journal for your next submission, which can be made via our online submission service. All submissions will be subject to initial assessment and peer review as appropriate according to the journal's guidelines.
We hope you enjoy reading this collection and look forward to seeing how this field progresses! Please continue to submit your exciting work on perovskite optoelectronics to Nanoscale.