Professor Gianaurelio (Giovanni) Cuniberti joins the Associate Editor team
Welcome to Nanoscale and Nanoscale Advances!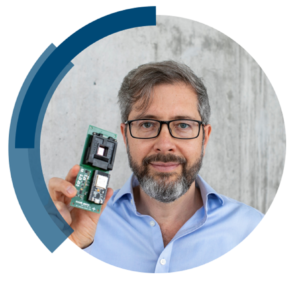 We are delighted to welcome Professor Gianaurelio (Giovanni) Cuniberti, TU Dresden, Germany, as a new Associate Editor working across Nanoscale and Nanoscale Advances.
Gianaurelio Cuniberti has been the Chair of Materials Science and Nanotechnology at TU Dresden since 2007 and is the founding director of the Dresden Center for Intelligent Materials. He is an Honorary Professor at the Division of IT Convergence Engineering of POSTECH and the Pohang University of Science and Technology, is Adjunct Professor for the Department of Chemistry at the University of Alabama, and a Guest Professor at SJTU. In 2018 he became a faculty member of the transcampus between TU Dresden and King's College London.
His research interests include a wide range of areas from quantum dots, nanowires and nanotubes to biosystems, molecular and organic electronics, addressing transport phenomena, structural stability and the theory and modelling of electronic and structural properties of bottom-up nanoscale materials.
Read some of his recent papers below.
A wafer-scale two-dimensional platinum monosulfide ultrathin film via metal sulfurization for high performance photoelectronics
Jinbo Pang, Yanhao Wang, Xiaoxin Yang, Lei Zhang, Yufen Li, Yu Zhang, Jiali Yang, Feng Yang, Xiao Wang, Gianaurelio Cuniberti, Hong Liu and Mark H. Rümmeli
Mater. Adv., 2022, DOI: 10.1039/D1MA00757B
One-way rotation of a chemically anchored single molecule-rotor
Frank Eisenhut, Tim Kühne, Jorge Monsalve, Saurabh Srivastava, Dmitry A. Ryndyk, Gianaurelio Cuniberti, Oumaima Aiboudi, Franziska Lissel, Vladimír Zobač, Roberto Robles, Nicolás Lorente, Christian Joachim and Francesca Moresco
Nanoscale, 2021, DOI: 10.1039/D1NR04583K
Predicting the bulk modulus of single-layer covalent organic frameworks with square-lattice topology from molecular building-block properties
Antonios Raptakis, Arezoo Dianat, Alexander Croy and Gianaurelio Cuniberti
Nanoscale, 2021, DOI: 10.1039/D0NR07666J
Enhanced visible-light photodegradation of fluoroquinolone-based antibiotics and E. coli growth inhibition using Ag–TiO2 nanoparticles
Jiao Wang, Ladislav Svoboda, Zuzana Němečková, Massimo Sgarzi, Jiří Henych, Nadia Licciardello and Gianaurelio Cuniberti
RSC Adv., 2021, DOI: 10.1039/D0RA10403E
Coexistence of fluorescent Escherichia coli strains in millifluidic droplet reactors
Xinne Zhao, Rico Illing, Philip Ruelens, Michael Bachmann, Gianaurelio Cuniberti, J. Arjan G. M. de Visser and Larysa Baraban
Lab Chip, 2021, DOI: 10.1039/D0LC01204A
STM induced manipulation of azulene-based molecules and nanostructures: the role of the dipole moment
Tim Kühne, Kwan Ho Au-Yeung, Frank Eisenhut, Oumaima Aiboudi, Dmitry A. Ryndyk, Gianaurelio Cuniberti, Franziska Lissel and Francesca Moresco
Nanoscale, 2020, DOI: 10.1039/D0NR06809H
Please join us in welcoming Professor Cuniberti to Nanoscale and Nanoscale Advances!
Best wishes,