Lunar New Year collection
A collection of our most popular articles from Asia
To celebrate the Lunar New Year, we are delighted to highlight some of the most popular articles, determined by their citations and page views, published in Nanoscale last year by corresponding authors based in countries celebrating the Lunar New Year.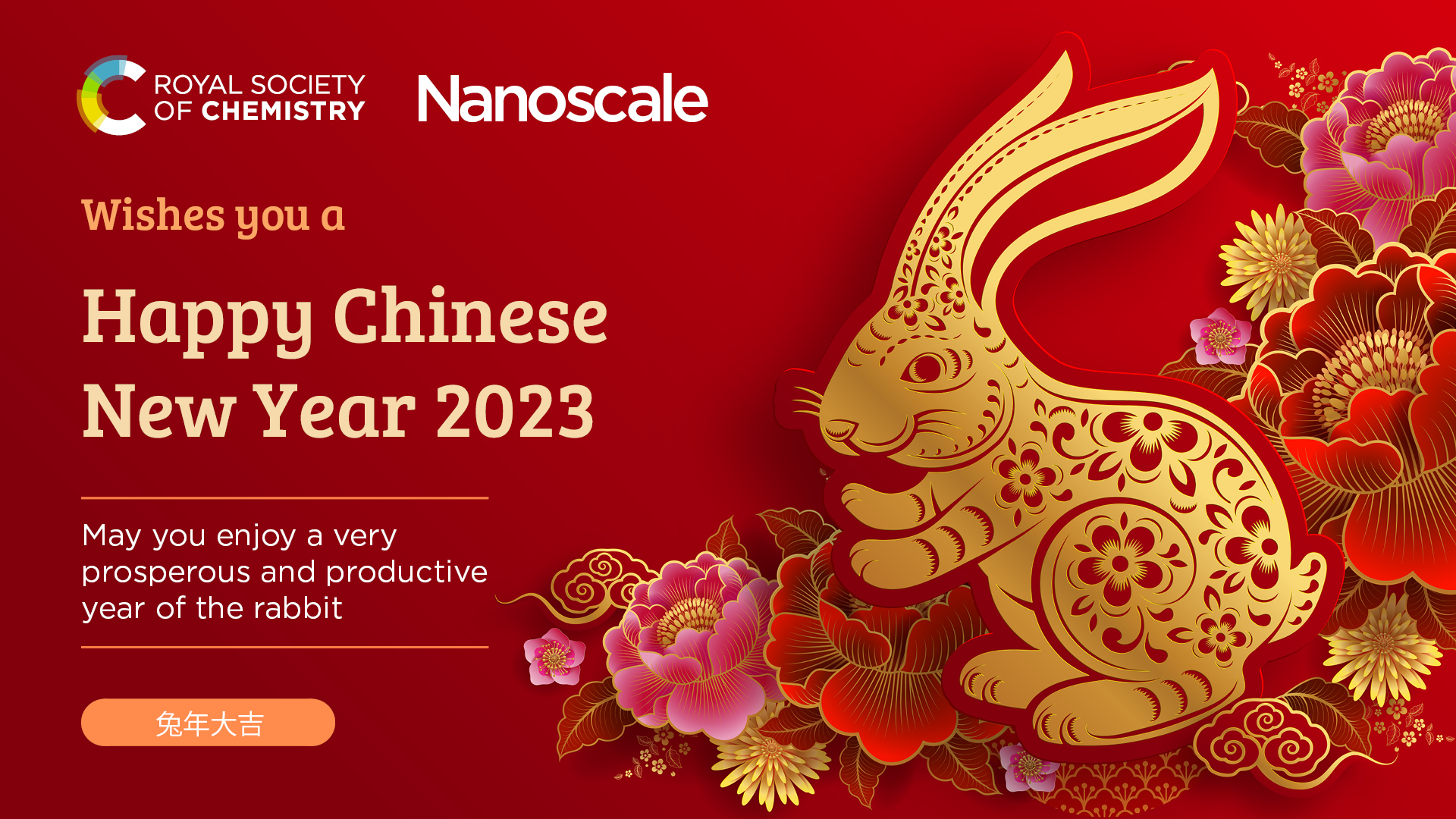 Professor Katharina Landfester (Nanoscale Horizons Editorial Board Chair) and Professor Dirk Guldi (Nanoscale and Nanoscale Advances Editor-in-Chief) have recorded messages to welcome us into the Year of the Rabbit!
All of the articles in the collection are free to access until the end of February 2023. Read some of the featured articles below.
Halide perovskite single crystals: growth, characterization, and stability for optoelectronic applications
Yunae Cho, Hye Ri Jung and William Jo
Nanoscale, 2022, DOI: 10.1039/D2NR00513A
Ultrathin Ti-doped WO3 nanosheets realizing selective photoreduction of CO2 to CH3OH
Peiquan Ling, Juncheng Zhu, Zhiqiang Wang, Jun Hu, Junfa Zhu, Wensheng Yan, Yongfu Sun and Yi Xie
Nanoscale, 2022, DOI: 10.1039/D2NR02364D
Nanoparticle-induced chemoresistance: the emerging modulatory effects of engineered nanomaterials on human intestinal cancer cell redox metabolic adaptation
Zhuoran Wu, Magdiel Inggrid Setyawati, Hong Kit Lim, Kee Woei Ng and Chor Yong Tay
Nanoscale, 2022, DOI: 10.1039/D2NR03893E
Highly-efficient radiative thermal rectifiers based on near-field gap variations
Bei Yang and Qing Dai
Nanoscale, 2022, DOI: 10.1039/D2NR04350E
Improved zT in Nb5Ge3–GeTe thermoelectric nanocomposite
Jing Cao, Xian Yi Tan, Ning Jia, Da Lan, Samantha Faye Duran Solco, Kewei Chen, Sheau Wei Chien, Hongfei Liu, Chee Kiang Ivan Tan, Qiang Zhu, Jianwei Xu, Qingyu Yan and Ady Suwardi
Nanoscale, 2022, DOI: 10.1039/D1NR06962D
We hope you enjoy reading these popular articles and wish you a happy, healthy and prosperous year of the rabbit!