Looking back at 2022
An overview of the exciting events, activities and news for Nanoscale from 2022
2022 was another great year for nanoscience research and now that the year has come to an end, we want to share some of the exciting events and activities that happened last year for Nanoscale. Thank you for your engagement last year and for enabling the journal to continue to support the community. We look forward to another great year for the journal and nanoscience research in 2023.
Board updates
We welcomed Professor Gianaurelio (Giovanni) Cuniberti (TU Dresden, Germany), Professor Christian Klinke (University of Rostock, Germany), Professor Zhiqun Lin (National University of Singapore, Singapore), Professor Janet Macdonald (Vanderbilt University, USA) and Professor Teresa Pellegrino (Istituto Italiano di Tecnologia, Italy) to the Editorial Board of Nanoscale and Nanoscale Advances as Associate Editors.

Professor Chunying Chen (National Center for Nanoscience and Technology of China, China), Professor Yamuna Krishnan (University of Chicago, USA), Professor Liberato Manna (Istituto Italiano di Tecnologia, Italy) and Professor Paolo Samorì (Université de Strasbourg, France) all completed their final terms as Associate Editors for Nanoscale and Nanoscale Advances in 2022 and joined our Advisory Board. We would like to thank them for their excellent service to the journal and community over many years.

Along with Professor Chen, Professor Krishnan, Professor Manna and Professor Samorì, we welcomed five other new Nanoscale Advisory Board members in order to better represent the ever-increasing diversity of our authors and readers.
Guohua Jia, Curtin University, Australia
Katharina Landfester, Max Planck Institute for Polymer Research, Germany
Lakshminarayana Polavarapu, University of Vigo, Spain
Narayan Pradhan, Indian Association for the Cultivation of Science, India
Hyeon Suk Shin, Ulsan National Institute of Science and Technology, South Korea
Discover our full list of the Nanoscale Advisory Board.
Outstanding reviewers
Nanoscale once again recognised the significant contributions that our reviewers have made to the journal and highlighted our 2021 Outstanding Reviewers for Nanoscale.
"By now, it is a good old tradition that Nanoscale recognizes its Outstanding Reviewers. Key in terms of guaranteeing the quality and impact of Nanoscale is the peer review process. As such, peer review depends not only on the excellence of the reviews but also on their timeliness. All of it comes on top of the many burdens that we face as active researchers. At the heart of the peer review process are carefully drafted reviews; they provide a valuable service that we owe to the scientific community in general, and to the readers of Nanoscale in particular. I want to extend a big thank you to these Outstanding Reviewers and everyone else who has reviewed manuscripts for Nanoscale". – Professor Dirk Guldi, Editor-in-Chief
Emerging investigators
We were proud to present our 2022 Emerging Investigators collection, recognizing the rising stars of nanoscience and nanotechnology by gathering some of the very best work from researchers in the early stages of their independent careers.
Congratulations to all the featured researchers on their important work so far in the field. Meet the featured authors in our Profile article.
Themed collections
Nanoscale published 11 themed collections in 2022, and we have many more exciting themed collections planned.
Editor's choice collections
Nanoscale published an Editor's Choice Collection on Functional MOFs and COFs selected by Paolo Samorì (University of Strasbourg, France). Look out for the upcoming collections that we will be publishing throughout 2023!
Journal metrics
This year we were pleased to see that Nanoscale's impact factor increased to 8.307 in the 2021 Journal Citation Reports (Clarivate Analytics, 2022), with over 370k monthly downloads and a fast time to peer reviewed first decision of 35 days. These are just a few of the many metrics that can be used to measure the journal's reach, quality and impact.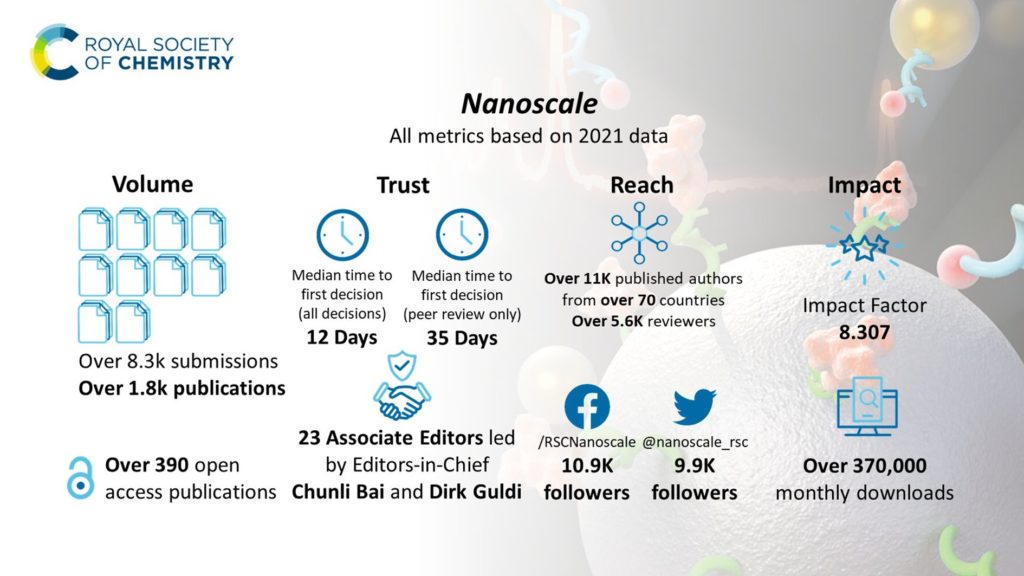 HOT articles
Finally, be sure to read the exciting articles featured in the 2022 Nanoscale HOT Article Collection.
The Nanoscale team wish you a Happy New Year!
With best wishes,
Dr Heather Montgomery
Managing Editor, Nanoscale