Generation of Chiroptically Active CsPbBr3 Nanoparticles
An infographic highlighting the post-synthetic ligand modification of perovskites to generate chiral nanoparticles
We would like to share an infographic highlighting the excellent work by David H. Waldeck et al. on a facile post-synthetic ligand modification strategy for making CsPbBr3 nanoparticles from achiral counterparts at room temperature! Check out the infographic below to learn more or get the full story from their Nanoscale article.
Using post-synthetic ligand modification to imprint chirality onto the electronic states of cesium lead bromide (CsPbBr3) perovskite nanoparticles
Gouranga H. Debnath, Zheni N. Georgieva, Brian P. Bloom, Susheng Tan and David H. Waldeck
Nanoscale, 2021, DOI: 10.1039/D1NR04274B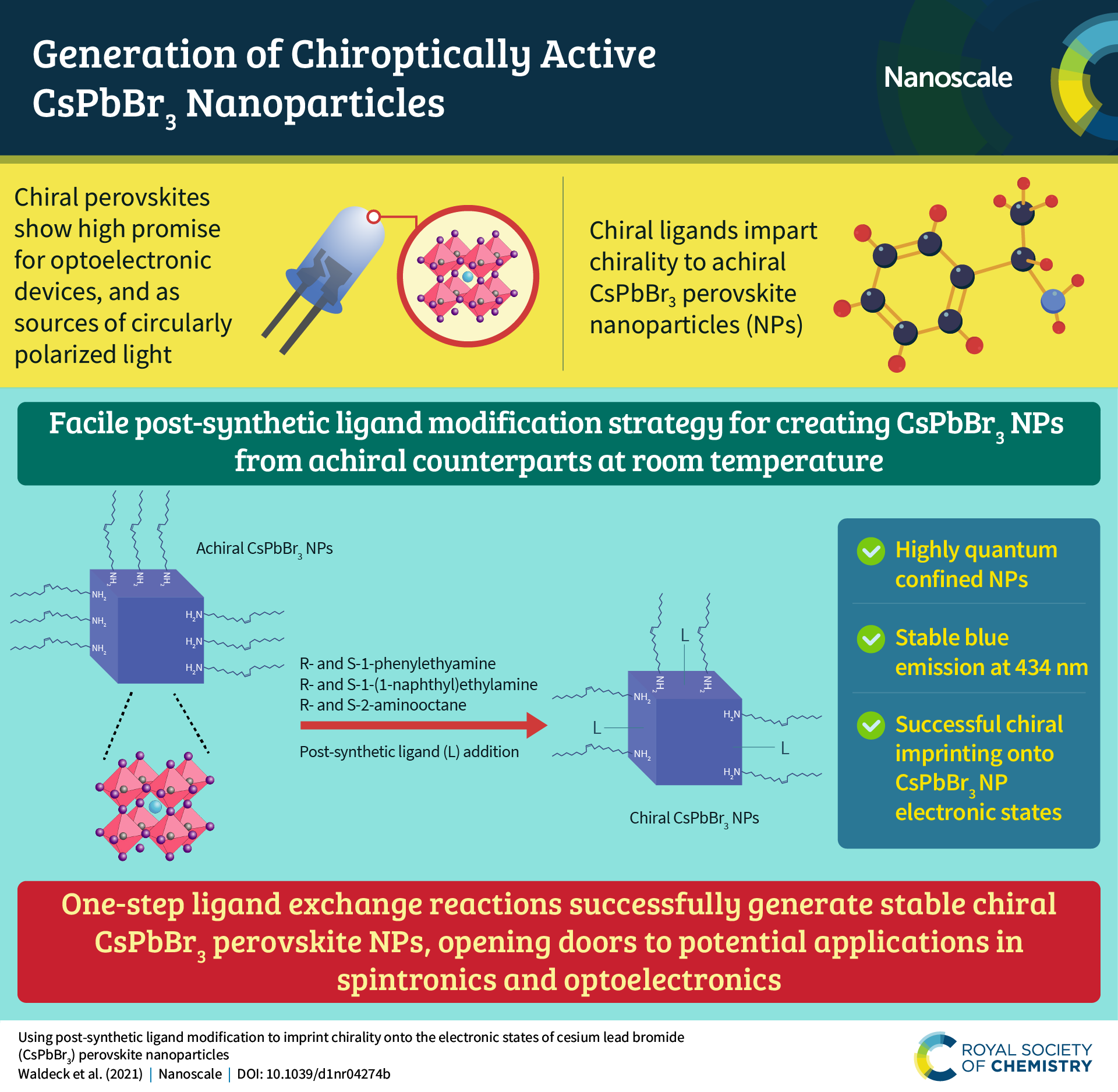 Meet the authors
Gouranga H. Debnat

Gouranga H. Debnath received his Ph.D. in Nanoscience and Nanotechnology from the Centre for Research in Nanoscience and Nanotechnology (CRNN) University of Calcutta in 2020, where he worked on the synthesis and spectroscopic characterization of lanthanide doped semiconductor nanomaterials. He is currently a postdoctoral associate in Prof. David H. Waldeck's group at the Department of Chemistry University of Pittsburgh, where he studies perovskite nanomaterials and the chiral induced spin selectivity (CISS) effect.

David H. Waldeck

David H. Waldeck obtained a Ph.D. in chemistry from the University of Chicago in 1983 and was an IBM Postdoctoral Fellow at the University of California, Berkeley from 1983 to 1985. In 1985 he began his independent career as an Assistant Professor of Chemistry at the University of Pittsburgh, where he now serves as Professor of Chemistry and Director of the Petersen Institute of NanoScience and Engineering. David's research program uses methods of spectroscopy, electrochemistry, and microscopy to investigate primary processes in the condensed phase and in nanoscale assemblies. His research program uses experiment and theory in a synergistic manner to quantify the interesting phenomenology that is displayed by molecules and their assemblies. Currently they are working to elucidate the nature of long-range electron transfer and the chiral induced spin selectivity effect.