New Highly Active Carbon-Black-Supported Platinum Nanocluster Catalysts
An infographic highlighting a simple size-selective method for the synthesis of Pt nanocluster catalysts
We would like to share an infographic highlighting the excellent work by Yuichi Negishi et al. on a simple method for the size-selective synthesis of a series of ligand-protected platinum nanoclusters with superior oxygen reduction reactivity! Check out the infographic below to learn more or get the full story from their Nanoscale article.
Simple and high-yield preparation of carbon-black-supported ∼1 nm platinum nanoclusters and their oxygen reduction reactivity
Tokuhisa Kawawaki, Nobuyuki Shimizu, Kanako Funai, Yusuke Mitomi, Sakiat Hossain, Soichi Kikkawa, D. J. Osborn, Seiji Yamazoe, Gregory F. Metha and Yuichi Negishi
Nanoscale, 2021, DOI: 10.1039/D1NR04202E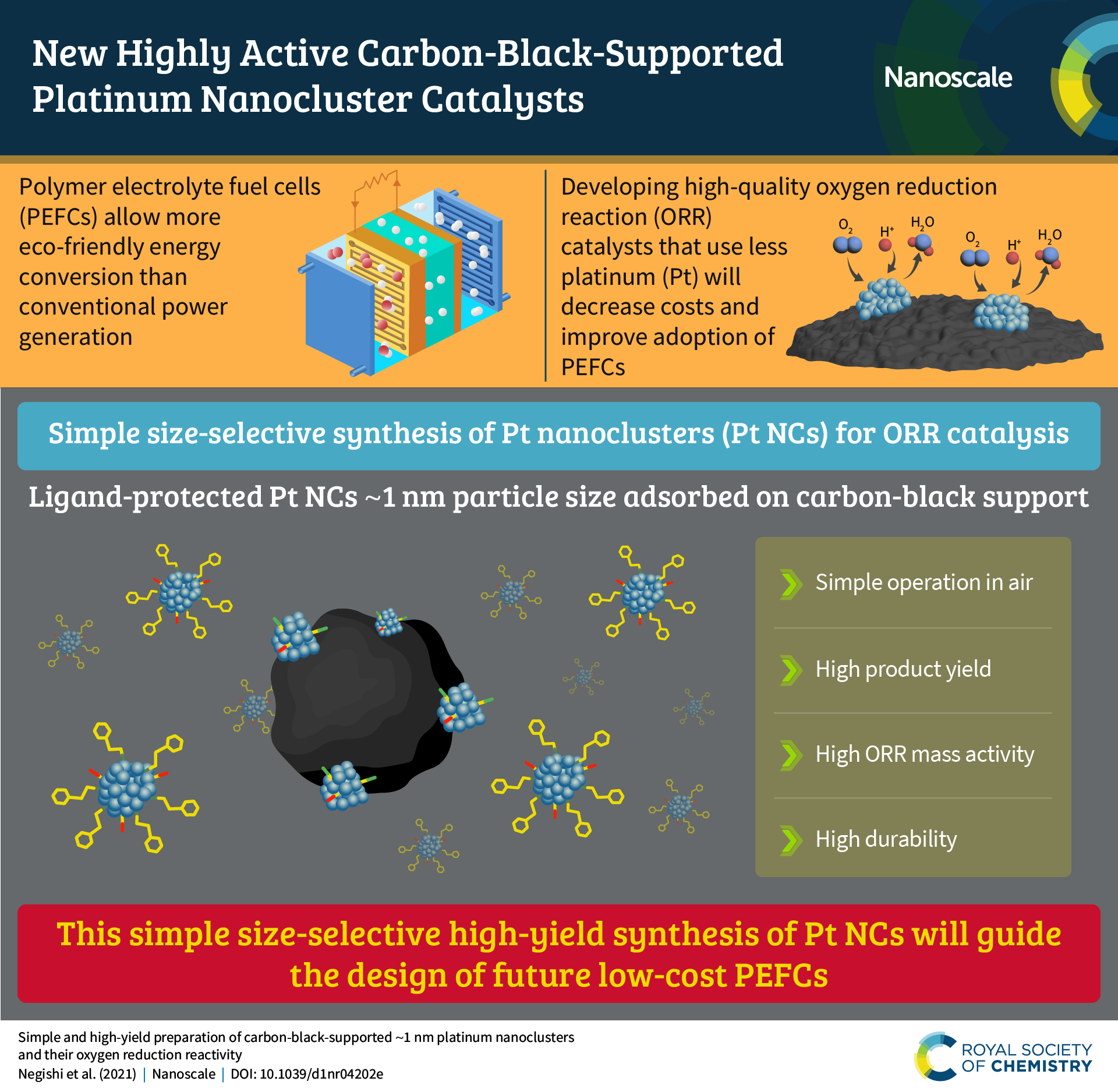 Meet the authors
Yuichi Negishi

Yuichi Negishi is a Professor in the Department of Applied Chemistry at Tokyo University of Science. He received his Ph.D. degree in Chemistry in 2001 under the supervision of Prof. Atsushi Nakajima at Keio University. Before joining Tokyo University of Science in 2008, he was employed as an assistant professor at Keio University (with Associate Prof. Atsushi Nakajima) and at the Institute for Molecular Science (with Associate Prof. Tatsuya Tsukuda). As senior researcher, he has more than 190 publications to his credit (total citations are over 12,000 times) and is the head of his research laboratory at the university. His areas of research include physical chemistry, cluster chemistry, and nanomaterial chemistry. His notable achievements include The Chemical Society of Japan Award for Young Chemists (Japan Chemical Society, 2008), the Japan Society for Molecular Science Award for Young Scientists (Japan Society for Molecular Science, 2012), Yagami Prize (Keio University, 2017), Distinguished Award 2018 for Novel Materials and Their Synthesis (IUPAC etc., 2018) and International Investigator Awards of the Japan Society for Molecular Science (Japan Society for Molecular Science, 2020).