New Ceria Nanoparticles to Fight Antibiotic-Resistant Bacteria
An infographic highlighting ceria-based nanoparticles as intracellular antibacterial agents
We would like to share an infographic highlighting the excellent work by Inge K. Herrmann et al. on ceria/bioglass nanohybrids that significantly reduce bacterial survival inside human cells without harming the human cells, overcoming the major shortcomings of conventional antibiotics! Check out the infographic below to learn more or get the full story from their Nanoscale article.
Inorganic nanohybrids combat antibiotic-resistant bacteria hiding within human macrophages
Martin T. Matter, Meagan Doppegieter, Alexander Gogos, Kerda Keevend, Qun Ren and Inge K. Herrmann
Nanoscale, 2021, DOI: 10.1039/D0NR08285F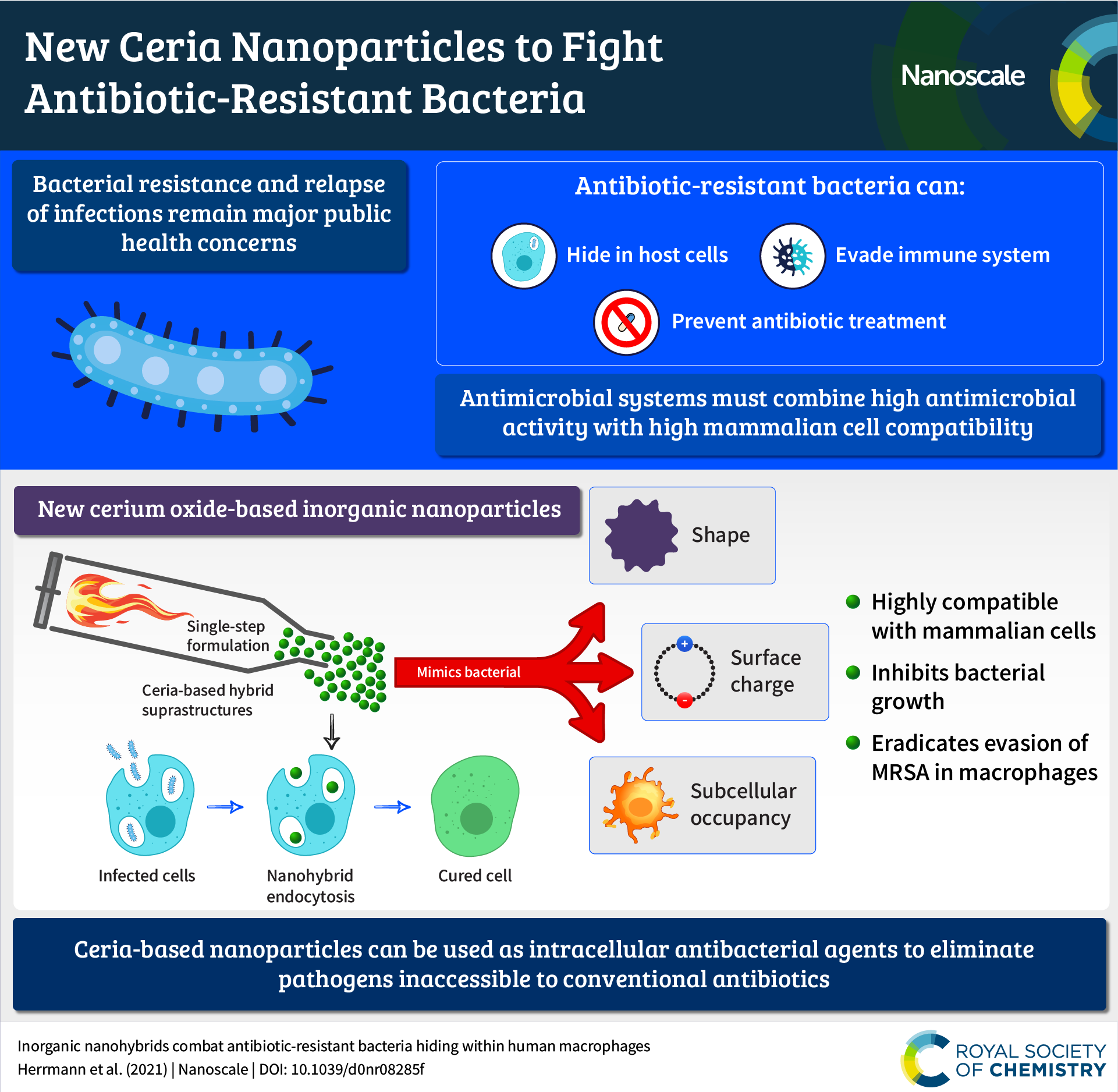 Meet the authors
Martin T. Matter

Dr Martin T. Matter completed his BSc and MSc studies in Nanosciences at the University of Basel and pursued his doctoral studies in nanostructured surgical materials at ETH Zurich and Empa St. Gallen. Since 2020, he is working on translating a nanoparticle-based wound care platform technology from the lab to clinics. He has been awarded the ETH medal and MaP award for his outstanding doctoral thesis, the Empa Innovation Award, and the Swiss Nanotech Startup Award.

Inge K. Herrmann

Inge K. Herrmann is a chemical engineer with additional training in (pre)clinical research. After graduating with a PhD from ETH Zurich, she underwent further training at the University Hospital Zurich (USZ), the University of Illinois (US) and the Imperial College London (UK). Since 2015, she is heading a research group at the Swiss Federal Laboratories for Materials Science and Technology (Empa) specialized on nanoscale materials and devices for healthcare. In 2019, she joined the Department of Mechanical and Process Engineering as an assistant professor at ETH Zurich where she is heading the Nanoparticle Systems Engineering Lab. She has spearheaded several translational nanomedicine projects, and serves as a scientific advisor of the spin-offs hemotune, anavo and veltist commercializing technologies emerging from her lab. Inge has won various prestigious awards, including the Bayer Healthcare Award and the Johnson & Johnson Award, the Swiss National Science Foundation Eccellenza Fellowship, the Empa Innovation Award 2020 and the ETH Zurich Dandelion Award 2021 for interdisciplinary collaboration and entrepreneurship.