Advanced Nanomaterials for Energy Conversion and Storage
Guest edited by Wee-Jun Ong, Markus Antonietti and Nanfeng Zheng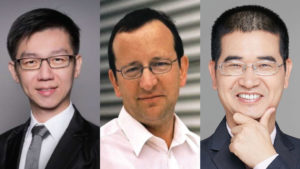 We are delighted to introduce a new themed online collection on the application of nanomaterials for energy conversion and storage. This collection focuses on the use of advanced strategies such as rational size/facet control, structural/defect engineering, atomic modification, and construction of nanohybrids that can regulate the geometric and/or electronic property of the active sites to improve the performance of nanomaterials toward energy conversion and storage.
Here is a selection of articles from this collection. All articles are free to access until the end of July 2021.
Recent advances in engineering active sites for photocatalytic CO2 reduction
Yanan Bo, Chao Gao and Yujie Xiong
Nanoscale, 2020, DOI: 10.1039/D0NR02596H
Inducing rapid polysulfide transformation through enhanced interfacial electronic interaction for lithium–sulfur batteries
Chao Shen, Kun Zhang, You You, Hui Wang, Ruiqi Ning, Yaqin Qi, Nan Li, Cuimin Ding, Keyu Xie and Bingqing Wei
Nanoscale, 2020, DOI: 10.1039/D0NR02429E
The role of carbon dots – derived underlayer in hematite photoanodes
Qian Guo, Hui Luo, Jifang Zhang, Qiushi Ruan, Arun Prakash Periasamy, Yuanxing Fang, Zailai Xie, Xuanhua Li, Xinchen Wang, Junwang Tang, Joe Briscoe, Magdalena Titirici and Ana Belen Jorge
Nanoscale, 2020, DOI: 10.1039/D0NR06139E
Tubular assemblies of N-doped carbon nanotubes loaded with NiFe alloy nanoparticles as efficient bifunctional catalysts for rechargeable zinc-air batteries
Xiaoying Xie, Lu Shang, Run Shi, Geoffrey I. N. Waterhouse, Jiaqi Zhao and Tierui Zhang
Nanoscale, 2020, DOI: 10.1039/D0NR02486D
We hope you enjoy reading this collection.