Advances in plasmonics and its applications

Guest edited by Xing Yi Ling, Ramón Álvarez-Puebla and Jian-Feng Li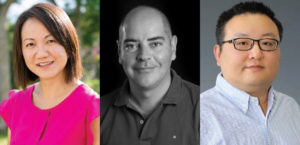 We are delighted to introduce a new themed online collection on the recent advances in plasmonics. This collection is dedicated to the integration of experimental and in silico studies for the advances in plasmonics and for innovative development of efficient plasmonic-based applications in a variety of different fields.
Here is a selection of articles from this collection. All articles are free to access until the end of May 2021.*
Self-assembly of colloidal nanoparticles into 2D arrays at water–oil interfaces: rational construction of stable SERS substrates with accessible enhancing surfaces and tailored plasmonic response
Ziwei Ye, Chunchun Li, Qinglu Chen, Yikai Xu and Steven E. J. Bell
Nanoscale, 2021, DOI: 10.1039/D0NR08803J
Electrochemical coating of different conductive polymers on diverse plasmonic metal nanocrystals
Wenzheng Lu, Tsz Him Chow, Yao Lu and Jianfang Wang
Nanoscale, 2020, DOI: 10.1039/D0NR05715K
Addressing molecular optomechanical effects in nanocavity-enhanced Raman scattering beyond the single plasmonic mode
Yuan Zhang, Ruben Esteban, Roberto A. Boto, Mattin Urbieta, Xabier Arrieta, ChongXin Shan, Shuzhou Li, Jeremy J. Baumberg and Javier Aizpurua
Nanoscale, 2021, DOI: 10.1039/D0NR06649D
Microporous silica membranes promote plasmonic nanoparticle stability for SERS detection of uranyl
Hoa T. Phan, Shenghao Geng and Amanda J. Haes
Nanoscale, 2020, DOI: 10.1039/D0NR06296K
We hope you enjoy reading this collection.
* Free access to articles via your free Royal Society of Chemistry publishing personal account