'Popular Advances' collection – May additions
The Nanoscale Advances 'Popular Advances' collection recognises the most well received papers published in the journal so far.  New papers are added monthly, and we will keep you up to date here with new additions each month.
May highlights
Review

Folding and self-assembly of short intrinsically disordered peptides and protein regions

Pablo G. Argudo and Juan J. Giner-Casares

Nanoscale Adv., 2021, 3, 1789-1812

DOI: 10.1039/D0NA00941E

Paper

Surface passivation of organometal halide perovskites by atomic layer deposition: an investigation of the mechanism of efficient inverted planar solar cells

Ran Zhao, Kai Zhang, Jiahao Zhu, Shuang Xiao, Wei Xiong, Jian Wang, Tanghao Liu, Guichuan Xing, Kaiyang Wang, Shihe Yang and Xinwei Wang

Nanoscale Adv., 2021, 3, 2305-2315

DOI: 10.1039/D1NA00075F
---
April highlights
Mini review

Recent advances in plasmonic nanocavities for single-molecule spectroscopy

Nicolò Maccaferri, Grégory Barbillon, Alemayehu Nana Koya, Guowei Lu, Guillermo P. Acuna and Denis Garoli

Nanoscale Adv., 2021, 3, 633-642

DOI: 10.1039/D0NA00715C

Paper

Phosphorescent MoS2 quantum dots as a temperature sensor and security ink

Manivannan Madhu, Chi-Yu Lu and Wei-Lung Tseng

Nanoscale Adv., 2021, 3, 661-667

DOI: 10.1039/D0NA00730G
---
March highlights
Review

Progress in polymers and polymer composites used as efficient materials for EMI shielding

Ján Kruželák, Andrea Kvasničáková, Klaudia Hložeková and Ivan Hudec

Nanoscale Adv., 2021, 3, 123-172

DOI: 10.1039/D0NA00760A

Mini review

Peptide-based nanomaterials for gene therapy

Wei Zhang, Qing Chen, Feng Wu, Jun Dai, Defang Ding, Jun Wu, Xiaoding Lou and Fan Xia

Nanoscale Adv., 2021, 3, 302-310

DOI: 10.1039/D0NA00899K

Paper

Synthesis of high quality 2D carbide MXene flakes using a highly purified MAX precursor for ink applications

Shi-Hyun Seok, Seungjun Choo, Jinsung Kwak, Hyejin Ju, Ju-Hyoung Han, Woo-Seok Kang, Joonsik Lee, Se-Yang Kim, Do Hee Lee, Jungsoo Lee, Jaewon Wang, Seunguk Song, Wook Jo, Byung Mun Jung, Han Gi Chae, Jae Sung Son and Soon-Yong Kwon

Nanoscale Adv., 2021, 3, 517-527

DOI: 10.1039/D0NA00398K
---
February highlights
Review

Synthesis, characterisation and applications of core–shell carbon–hexagonal boron nitride nanotubes

Ruth Sang Jones, Barbara Maciejewska and Nicole Grobert

Nanoscale Adv., 2020, 2, 4996-5014

DOI: 10.1039/D0NA00583E

Communication

Core@shell Sb@Sb2O3 nanoparticles anchored on 3D nitrogen-doped carbon nanosheets as advanced anode materials for Li-ion batteries

Xian Chen, Liang Wang, Feng Ma, Tanyuan Wang, Jiantao Han, Yunhui Huang and Qing Li

Nanoscale Adv., 2020, 2, 5578-5583

DOI: 10.1039/D0NA00711K

Communication

High power Na3V2(PO4)3 symmetric full cell for sodium-ion batteries

Milan K. Sadan, Anupriya K. Haridas, Huihun Kim, Changhyeon Kim, Gyu-Bong Cho, Kwon-Koo Cho, Jou-Hyeon Ahn and Hyo-Jun Ahn

Nanoscale Adv., 2020, 2, 5166-5170

DOI: 10.1039/D0NA00729C
---
January highlights
Review

Development of biological metal–organic frameworks designed for biomedical applications: from bio-sensing/bio-imaging to disease treatment

Huai-Song Wang, Yi-Hui Wang and Ya Ding

Nanoscale Adv., 2020, 2, 3788-3797

DOI: 10.1039/D0NA00557F

Communication

Disulfide exchange assisted self-healing epoxy/PDMS/graphene oxide nanocomposites

Balaji Krishnakumar, Manjeet Singh, Vijay Parthasarthy, Chanwook Park, Nanda Gopal Sahoo, Gun Jin Yun and Sravendra Rana

Nanoscale Adv., 2020, 2, 2726-2730

DOI: 10.1039/D0NA00282H

Paper

Thermally induced intra-molecular transformation and metalation of free-base porphyrin on Au(111) surface steered by surface confinement and ad-atoms

Dipayan Sen, Piotr Błoński, Bruno de la Torre, Pavel Jelínek and Michal Otyepka

Nanoscale Adv., 2020, 2, 2986-2991

DOI: 10.1039/D0NA00401D
---
We hope you enjoy reading these articles!
Visit our website – rsc.li/nanoscale-advances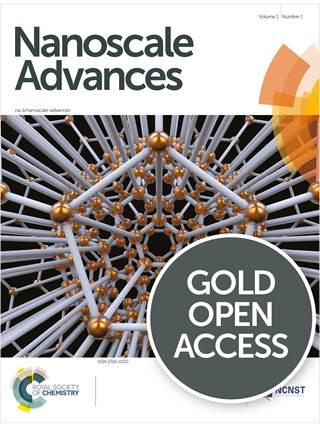 Nanoscale Advances is an international open access journal, publishing research across the breadth of nanoscience and nanotechnology.  As a gold open access journal, we will offer readers free access to all content.
Sign up now to get updates on all articles as they are published on Twitter, Facebook, and our e-alerts.