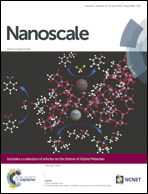 Nanoscale is delighted to present its current issue.
Towards waste free organic synthesis using nanostructured hybrid silicas is the article highlighted on the outside front cover by Rosaria Ciriminna, Laura M. Ilharco, Valerica Pandarus, Alexandra Fidalgo, François Béland and Mario Pagliaro.
The inside front cover features an article on Nanowire array chips for molecular typing of rare trafficking leukocytes with application to neurodegenerative pathology by Minsuk Kwak, Dong-Joo Kim, Mi-Ri Lee, Yu Wu, Lin Han, Sang-Kwon Lee and Rong Fan.
Issue 12 contains the following Review and Feature articles:
Increasing the activity and enantioselectivity of lipases by sol–gel immobilization: further advancements of practical interest
Patrick Tielmann, Hans Kierkels, Albin Zonta, Adriana Ilie and Manfred T. Reetz
Precursor directed synthesis – "molecular" mechanisms in the Soft Chemistry approaches and their use for template-free synthesis of metal, metal oxide and metal chalcogenide nanoparticles and nanostructures
Gulaim A. Seisenbaeva and Vadim G. Kessler
Integrated graphene/nanoparticle hybrids for biological and electronic applications
Kim Truc Nguyen and Yanli Zhao
Hybrid materials science: a promised land for the integrative design of multifunctional materials
Lionel Nicole, Christel Laberty-Robert, Laurence Rozes and Clément Sanchez