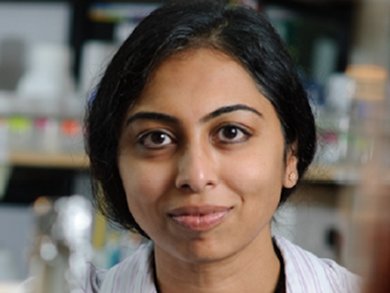 Dr Yamuna Krishnan has received the prestigious Shanti Swarup Bhatnagar Award for Chemical Sciences.  The Shanti Swarup Bhatnagar Awards are India's top awards for excellence in science and technology and are given annually to young scientists below the age of 45 who have made outstanding contributions in any field of science and technology.
The Award was instituted in 1957 in the honour of late Dr Shanti Swarup Bhatnagar, an eminent scientist, founder director and principal architect of the Council of Scientific and Industrial Research (CSIR). This year, eight scientists received awards on the 71st Foundation day of CSIR. Dr Krishnan was the only recipient in the Chemical Sciences Category. A full list of winners can be found here.
Yamuna Krishnan is a scientist at the National Centre for Biological Sciences (NCBS) in Bangalore, India. Her research involves understanding the structure and dynamics of unusual forms of DNA and translating this knowledge to create DNA-based nanodevices for applications in bionanotechnology.
Dr Krishnan is a Nanoscale Associate Editor. You can submit your best research to her Editorial Office at http://mc.manuscriptcentral.com/nr.
Here is one of Dr Krishnan's recent articles in Chemical Communications:
Tunable, colorimetric DNA-based pH sensors mediated by A-motif formation
Sonali Saha, Kasturi Chakraborty and Yamuna Krishnan
Chem. Commun., 2012,48, 2513-2515
DOI: 10.1039/C2CC16347K