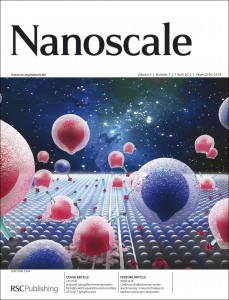 Check out our selection of high impact articles, published in Nanoscale covering topics from drug delivery to bio-imaging.
On behalf of the Editors-in-Chief, Chunli Bai (CAS President, NCNST, Beijing), Jie Liu (Duke), Wei Lu (Michigan), Markus Niederberger (ETH Zurich), and Francesco Stellacci (EPFL), we invite you to submit your best research to Nanoscale.
Consider contributing to our exciting themed collection on Functional nanoparticles for biomedical applications, Guest Edited by Nguyen T K Thanh (UCL).
With an international readership, across the many disciplines involved with nanoscience and nanotechnology and a first (2011) Impact Factor of 5.91, Nanoscale is the ideal place to publish your research.

Sign up to receive our free e-alert and be among the first to read our newest articles.
Read this high-impact nanomedicine research today:
Review articles
Biomedical nanomaterials for imaging-guided cancer therapy
Yuran Huang, Sha He, Weipeng Cao, Kaiyong Cai and Xing-Jie Liang
DOI: 10.1039/C2NR31715J
Mesoporous silica nanoparticles for bioadsorption, enzyme immobilisation, and delivery carriers
Amirali Popat, Sandy Budi Hartono, Frances Stahr, Jian Liu, Shi Zhang Qiao and Gao Qing (Max) Lu
DOI: 10.1039/C1NR10224A
Fluorescence bioimaging with conjugated polyelectrolytes
Guangxue Feng, Dan Ding and Bin Liu
DOI: 10.1039/C2NR31392H
Assembling nanoparticle coatings to improve the drug delivery performance of lipid based colloids
Spomenka Simovic, Timothy J. Barnes, Angel Tan and Clive A. Prestidge
DOI: 10.1039/C1NR11273B
Nanobionics: the impact of nanotechnology on implantable medical bionic devices
G. G. Wallace, M. J. Higgins, S. E. Moulton and C. Wang
DOI: 10.1039/C2NR30758H
Optofluidic opportunities in global health, food, water and energy
Yih-Fan Chen, Li Jiang, Matthew Mancuso, Aadhar Jain, Vlad Oncescu and David Erickson
DOI: 10.1039/C2NR30859B
Short-peptide-based molecular hydrogels: novel gelation strategies and applications for tissue engineering and drug delivery
Huaimin Wang and Zhimou Yang
DOI: 10.1039/C2NR31149F
Development of viral nanoparticles for efficient intracellular delivery
Zhuojun Wu, Kevin Chen, Ibrahim Yildiz, Anouk Dirksen, Rainer Fischer, Philip E. Dawson and Nicole F. Steinmetz
DOI: 10.1039/C2NR30366C
Nanoscale surface modifications of medically relevant metals: state-of-the art and perspectives
Fabio Variola, John B. Brunski, Giovanna Orsini, Paulo Tambasco de Oliveira, Rima Wazen and Antonio Nanci
DOI: 10.1039/C0NR00485E
Macromolecular nanotheranostics for multimodal anticancer therapy
Ruben Huis in 't Veld, Gert Storm, Wim E. Hennink, Fabian Kiessling and Twan Lammers
DOI: 10.1039/C1NR10733J
Original research
Gold nanocages covered with thermally-responsive polymers for controlled release by high-intensity focused ultrasound
Weiyang Li, Xin Cai, Chulhong Kim, Guorong Sun, Yu Zhang, Rui Deng, Miaoxin Yang, Jingyi Chen, Samuel Achilefu, Lihong V. Wang and Younan Xia
DOI: 10.1039/C0NR00932F
Biocompatible magnetic liposomes for temperature triggered drug delivery
Xingwei Ding, Kaiyong Cai, Zhong Luo, Jinghua Li, Yan Hu and Xinkun Shen
DOI: 10.1039/C2NR31292A
Graphene based gene transfection
Liangzhu Feng, Shuai Zhang and Zhuang Liu
DOI: 10.1039/C0NR00680G
In vivo demonstration of enhanced radiotherapy using rare earth doped titania nanoparticles
Helen E. Townley, Jeewon Kim and Peter J. Dobson
DOI: 10.1039/C2NR30769C
Low frequency heating of gold nanoparticle dispersions for non-invasive thermal therapies
Xiaoming Liu, Hui-jiuan Chen, Xiaodong Chen, Clive Parini and Dongsheng Wen
DOI: 10.1039/C2NR30166K
Cellular uptake mechanisms of functionalised multi-walled carbon nanotubes by 3D electron tomography imaging
Khuloud T. Al-Jamal, Hannah Nerl, Karin H. Müller, Hanene Ali-Boucetta, Shouping Li, Peter D. Haynes, Joerg R. Jinschek, Maurizio Prato, Alberto Bianco, Kostas Kostarelos and Alexandra E. Porter
DOI: 10.1039/C1NR10080G
Curcumin-loaded biodegradable polymeric micelles for colon cancer therapy in vitro and in vivo
MaLing Gou, Ke Men, HuaShan Shi, MingLi Xiang, Juan Zhang, Jia Song, JianLin Long, Yang Wan, Feng Luo, Xia Zhao and ZhiYong Qian
DOI: 10.1039/C0NR00758G
Synthesis and characterization of silver/alanine nanocomposites for radiation detection in medical applications: the influence of particle size on the detection properties
Eder José Guidelli, Ana Paula Ramos, Maria Elisabete D. Zaniquelli, Patricia Nicolucci and Oswaldo Baffa
DOI: 10.1039/C2NR30090G
Superparamagnetic colloidal nanocrystal clusters coated with polyethylene glycol fumarate: a possible novel theranostic agent
Houshang Amiri, Morteza Mahmoudi and Alessandro Lascialfari
DOI: 10.1039/C0NR00603C
Nanostructured nanoparticles of self-assembled lipid pro-drugs as a route to improved chemotherapeutic agents
Sharon M. Sagnella, Xiaojuan Gong, Minoo J. Moghaddam, Charlotte E. Conn, Kathleen Kimpton, Lynne J. Waddington, Irena Krodkiewska and Calum J. Drummond
DOI: 10.1039/C0NR00781A
Synthesis and characterization of novel dual-responsive nanogels and their application as drug delivery systems
Jinrong Peng, Tingting Qi, Jinfeng Liao, Min Fan, Feng Luo, He Li and Zhiyong Qian
DOI: 10.1039/C2NR30147D
Multicolor core/shell silica nanoparticles for in vivo and ex vivo imaging
Enrico Rampazzo, Federico Boschi, Sara Bonacchi, Riccardo Juris, Marco Montalti, Nelsi Zaccheroni, Luca Prodi, Laura Calderan, Barbara Rossi, Serena Becchi and Andrea Sbarbati
DOI: 10.1039/C1NR11401H
Magnetic nanobeads decorated by thermo-responsive PNIPAM shell as medical platforms for the efficient delivery of doxorubicin to tumour cells
Smriti R. Deka, Alessandra Quarta, Riccardo Di Corato, Andreas Riedinger, Roberto Cingolani and Teresa Pellegrino
DOI: 10.1039/C0NR00570C
Irreversible changes in protein conformation due to interaction with superparamagnetic iron oxide nanoparticles
Morteza Mahmoudi, Mohammad A. Shokrgozar, Soroush Sardari, Mojgan K. Moghadam, Hojatollah Vali, Sophie Laurent and Pieter Stroeve
DOI: 10.1039/C0NR00733A
Non-invasive tumor detection in small animals using novel functional Pluronic nanomicelles conjugated with anti-mesothelin antibody
Hong Ding, Ken-Tye Yong, Wing-Chueng Law, Indrajit Roy, Rui Hu, Fang Wu, Weiwei Zhao, Kun Huang, Folarin Erogbogbo, Earl J. Bergey and Paras N. Prasad
DOI: 10.1039/C1NR00001B
A quartz nanopillar hemocytometer for high-yield separation and counting of CD4+ T lymphocytes
Dong-Joo Kim, Jin-Kyeong Seol, Yu Wu, Seungmuk Ji, Gil-Sung Kim, Jung-Hwan Hyung, Seung-Yong Lee, Hyuneui Lim, Rong Fan and Sang-Kwon Lee
DOI: 10.1039/C2NR11338D