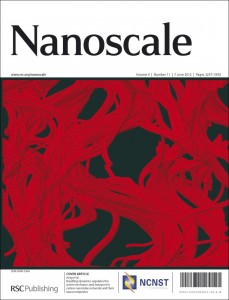 We are delighted that Nanoscale's 2011 Impact Factor is 5.914. This is an impressive rise from last year and demonstrates the outstanding research being published in the journal.
To celebrate, we would like to share with you some of the great reviews and original research articles we have published in Nanoscale which are free to access for a limited period.
Be among the first to hear about the newest articles being published in Nanoscale – sign up to receive our free table of contents e-alerts.
The Editors—Chunli Bai (CAS), Jie Liu (Duke University), Wei Lu (University of Michigan), Markus Niederberger (ETH Zurich), Francesco Stellacci (EPFL), Jianfang Wang (Hong Kong) and Xiao Cheng Zeng (University of Nebraska–Lincoln)—enforce very high standards for acceptance in Nanoscale. Articles must report extremely novel, very high quality work of broad general interest. We aspire to even higher quality and impact in future years.
Submit your best work to Nanoscale.
Read these excellent Nanoscale articles for free today:
Reviews
Graphene edges: a review of their fabrication and characterization
Xiaoting Jia, Jessica Campos-Delgado, Mauricio Terrones, Vincent Meunier and Mildred S. Dresselhaus
DOI: 10.1039/C0NR00600A
Recent progress on metal core@semiconductor shell nanocomposites as a promising type of photocatalyst
Nan Zhang, Siqi Liu and Yi-Jun Xu
DOI: 10.1039/C2NR00009A
Gold nanoparticles: preparation, properties, and applications in bionanotechnology
Yi-Cheun Yeh, Brian Creran and Vincent M. Rotello
DOI: 10.1039/C1NR11188D
Nanostructured metal oxide-based materials as advanced anodes for lithium-ion batteries
Hao Bin Wu, Jun Song Chen, Huey Hoon Hng and Xiong Wen (David) Lou
DOI: 10.1039/C2NR11966H
Molding the flow of light on the nanoscale: from vortex nanogears to phase-operated plasmonic machinery
Svetlana V. Boriskina and Björn M. Reinhard
DOI: 10.1039/C1NR11406A
The role of nanomaterials in redox-based supercapacitors for next generation energy storage devices
Xin Zhao , Beatriz Mendoza Sánchez , Peter J. Dobson and Patrick S. Grant
DOI: 10.1039/C0NR00594K
Graphene: nanoscale processing and recent applications
László P. Biró , Péter Nemes-Incze and Philippe Lambin
DOI: 10.1039/C1NR11067E
Li ion battery materials with core–shell nanostructures
Liwei Su , Yu Jing and Zhen Zhou
DOI: 10.1039/C1NR10550G
Theranostic nanoplatforms for simultaneous cancer imaging and therapy: current approaches and future perspectives
Ki Young Choi , Gang Liu , Seulki Lee and Xiaoyuan Chen
DOI: 10.1039/C1NR11277E
Microwave chemistry for inorganic nanomaterials synthesis
Idalia Bilecka and Markus Niederberger
DOI: 10.1039/B9NR00377K
Original research
3D branched nanowire heterojunction photoelectrodes for high-efficiency solar water splitting and H2 generation
Ke Sun, Yi Jing, Chun Li, Xiaofeng Zhang, Ryan Aguinaldo, Alireza Kargar, Kristian Madsen, Khaleda Banu, Yuchun Zhou, Yoshio Bando, Zhaowei Liu and Deli Wang
DOI: 10.1039/C2NR11952H
One-step seeded growth of Au nanoparticles with widely tunable sizes
Chuanbo Gao, John Vuong, Qiao Zhang, Yiding Liu and Yadong Yin
DOI: 10.1039/C2NR30300K
Graphene-based composite materials beneficial to wound healing
Bingan Lu, Ting Li, Haitao Zhao, Xiaodong Li, Caitian Gao, Shengxiang Zhang and Erqing Xie
DOI: 10.1039/C2NR11958G
The effect of nanowire length and diameter on the properties of transparent, conducting nanowire films
Stephen M. Bergin, Yu-Hui Chen, Aaron R. Rathmell, Patrick Charbonneau, Zhi-Yuan Li and Benjamin J. Wiley
DOI: 10.1039/C2NR30126A
Graphene decoration with metal nanoparticles: Towards easy integration for sensing applications
Albert Gutés, Ben Hsia, Allen Sussman, Willi Mickelson, Alex Zettl, Carlo Carraro and Roya Maboudian
DOI: 10.1039/C1NR11537E
Graphene oxide modified TiO2 nanotube arrays: enhanced visible light photoelectrochemical properties
Peng Song, Xiaoyan Zhang, Mingxuan Sun, Xiaoli Cui and Yuehe Lin
DOI: 10.1039/C2NR11938B
CdS/CdSe quantum dot co-sensitized graphene nanocomposites via polymer brush templated synthesis for potential photovoltaic applications
Junfeng Yan, Qian Ye, Xiaolong Wang, Bo Yu and Feng Zhou
DOI: 10.1039/C2NR11893A
Surface charge of gold nanoparticles mediates mechanism of toxicity
Nicole M. Schaeublin, Laura K. Braydich-Stolle, Amanda M. Schrand, John M. Miller, Jim Hutchison, John J. Schlager and Saber M. Hussain
DOI: 10.1039/C0NR00478B
Facile synthesis of metal oxide/reduced graphene oxide hybrids with high lithium storage capacity and stable cyclability
Jixin Zhu, Ting Zhu, Xiaozhu Zhou, Yanyan Zhang, Xiong Wen Lou, Xiaodong Chen, Hua Zhang, Huey Hoon Hng and Qingyu Yan
DOI: 10.1039/C0NR00744G
A new ultrahigh-speed method for the preparation of nanofibers containing living cells: A bridge towards industrial bioengineering applications
Bingan Lu, Yongmin He, Huigao Duan, Yijie Zhang, Xiaodong Li, Chenquan Zhu and Erqing Xie
DOI: 10.1039/C2NR11430E
Don't miss the opportunity to attend the ISACS9 Challenges in Nanoscience conference: