We are delighted to welcome Professor Serena Margadonna, Swansea University, UK, as an Associate Editor for RSC Applied Interfaces, a new open access journal publishing cutting edge research on the applications of surfaces and interfaces.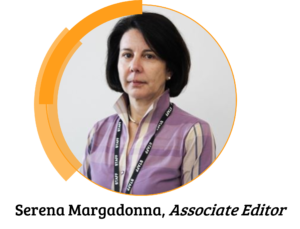 Learn more about our new Associate Editor
Serena Margadonna joined Swansea University in 2015 as Chair in Materials Engineering and is currently the Head of the School of Engineering and Applied Science. Previously, she has worked in several institutions including the Universities of Cambridge as a Jesus College Research Fellow, Edinburgh as a Dorothy Hodgkin Royal Society Fellow and Oslo as a Professor in Materials Chemistry.
She has been responsible for significant advances in the fields of strongly correlated electron systems, superconductivity and molecular magnetism. More recently she focuses on developing sustainable materials and processes for the manufacturing of electrochemical energy storage solutions with a particular focus on sodium-ion batteries.
Find out more about Professor Margadonna on our webpage.
Read some of her recent papers below:
Synergic effect of Bi, Sb and Te for the increased stability of bulk alloying anodes for sodium-ion batteries
Marcin W. Orzech, Francesco Mazzali, James D. McGettrick, Cameron Pleydell-Pearce, Trystan M. Watson, Wayne Voice, David Jarvis and Serena Margadonna
J. Mater. Chem. A, 2017, 5, 23198-23208
Water-Stable DMASnBr3 Lead-Free Perovskite for Effective Solar-Driven Photocatalysis
Lidia Romani, Andrea Speltini, Francesco Ambrosio, Edoardo Mosconi, Antonella Profumo, Marcello Marelli, Serena Margadonna, Antonella Milella, Francesco Fracassi, Andrea Listorti, Filippo De Angelis and Lorenzo Malavasi
Angew. Chem. Int. Ed., 2021, 60, 3611-3618
RSC Applied Interfaces is open for submissions. Find out more on the journal webpage, sign up for email alerts, or submit your manuscript now.
Please join us in welcoming Professor Margadonna to RSC Applied Interfaces.