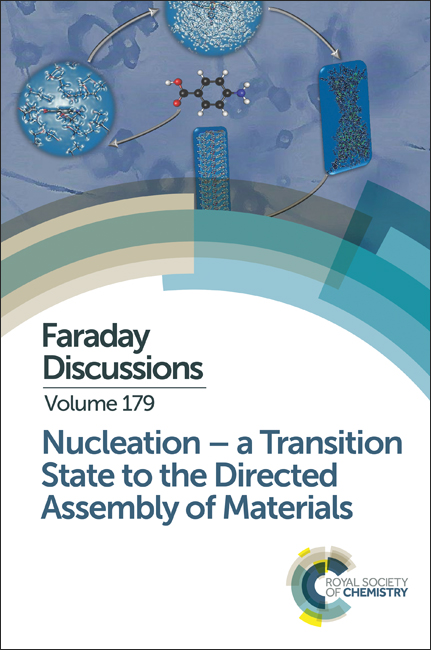 We are delighted to announce that the new Impact Factor* of Faraday Discussions is 4.6.
Thanks to all our authors, speakers, readers, delegates, committee members and everyone else who has contributed to the continued success of Faraday Discussions.
In 2014 we hosted nine discussions across a broad range of topics in rapidly developing areas of chemistry and its interfaces with other scientific disciplines. Read the papers and discussions from these exciting events:
You can get involved – register for one (or more!) of the excellent future meetings.
Still to come in 2015:
Solid Oxide Electrolysis: Fuels and Feedstocks from Water and Air
13 – 15 July 2015, York, UK
Registration deadline: 29 June 2015
Carbon Dioxide Utilisation
7-9 September 2015, Sheffield, UK
Registration deadline: 10 August
Single-Molecule Microscopy and Spectroscopy
14 – 16 September 2015, London, UK
Registration deadline: 17 August
Supramolecular Photochemistry
15-17 September 2015, Cambridge, UK
Registration deadline: 17 August
Not familiar with the unique format of Faraday Discussions? Check out our FAQs.
Read more about the 2014 Impact Factors from across RSC Publishing on the RSC Publishing Blog.
*A journal's Impact Factor is an indication of the average number of citations received per individual paper in the preceding two years. The annual figure is calculated by dividing the number of citations to relevant articles in a year by the number of citeable articles published in the preceding two years.
Data based on 2014 Journal Citation Reports ®, (Thomson Reuters, June 2015).